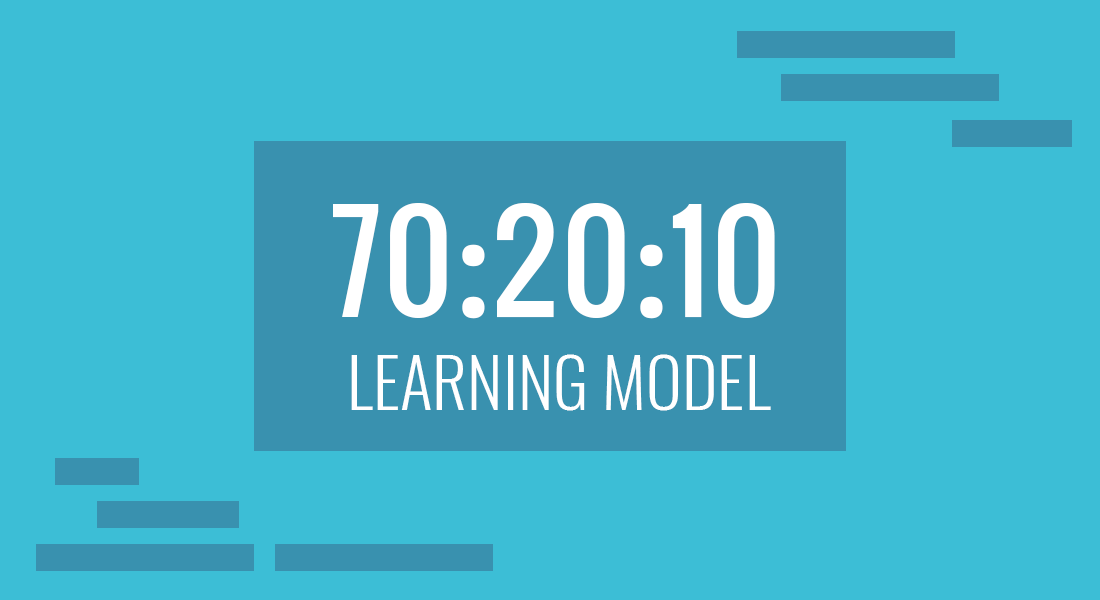 People don't like to admit it; however, many people indeed learn skills not before but during a job. When labeled as an 'expert'; people tend to shy away from admitting that they lack knowledge of certain aspects of their job. This is usually nothing to be shy about since changing trends, technology and consumer demands often mean that something new is just around the corner. Be it a new method, best practice, technology or process. So how can you bridge this learning gap? An answer can be to adopt the 70-20-10 model for learning and development.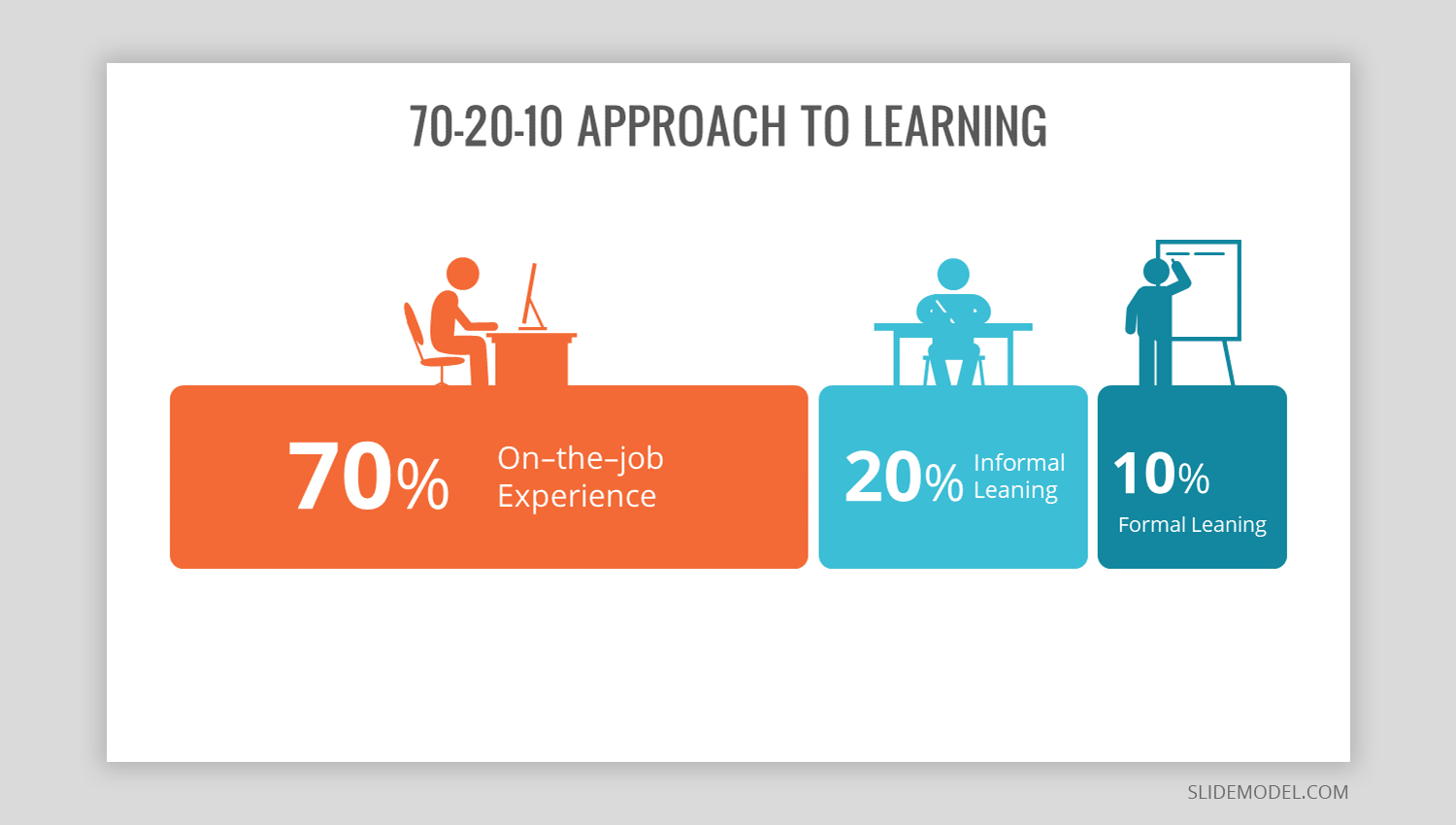 Source: 70-20-10 Approach to Learning PowerPoint template by SlideModel
What is the 70-20-10 Model for Learning and Development?
In a survey over 200 executives were asked to assess how they believed they learned at the workplace. The survey revealed that respondents considered 70% of their workplace related learning to be attributed to challenging tasks, 20% learning from coworkers and 10% through formal learning, such as training and coursework. The research became the basis for the 70/20/10 model, which is used as a strategic workplace learning framework by organizations to support learning through a mix of 70% experiential, 20% social and 10% formal learning.
Michael Lombardo and Robert Eichinger in the book titled The Career Architect Development Planner justified the 70/20/10 model by pointing out that people learn from others, personal failure and feedback. 70% of learning and development is likely to come mostly from on the job experience and 20% from feedback and 10% from courses and studying relevant content.
Key Components of the 70-20-10 Model
The key components of the 70-20-10 Model include 70% Experiential Learning, 20% Social Learning and 10% Formal Learning.
70% Experiential Learning from Challenging Assignments
Experiential learning is on the job learning which includes what employees learn over the course of their job. For example, an IT professional might learn how to troubleshoot a novel problem during a system breakdown, a finance executive might learn a new Excel formula to improve his calculations or an assistant might learn a new feature when making PowerPoint slides for his/her boss. On the job learning, especially when given challenging tasks is more common than many people like to admit. This can end up being 70% of the learning according to the 70-20-10 model.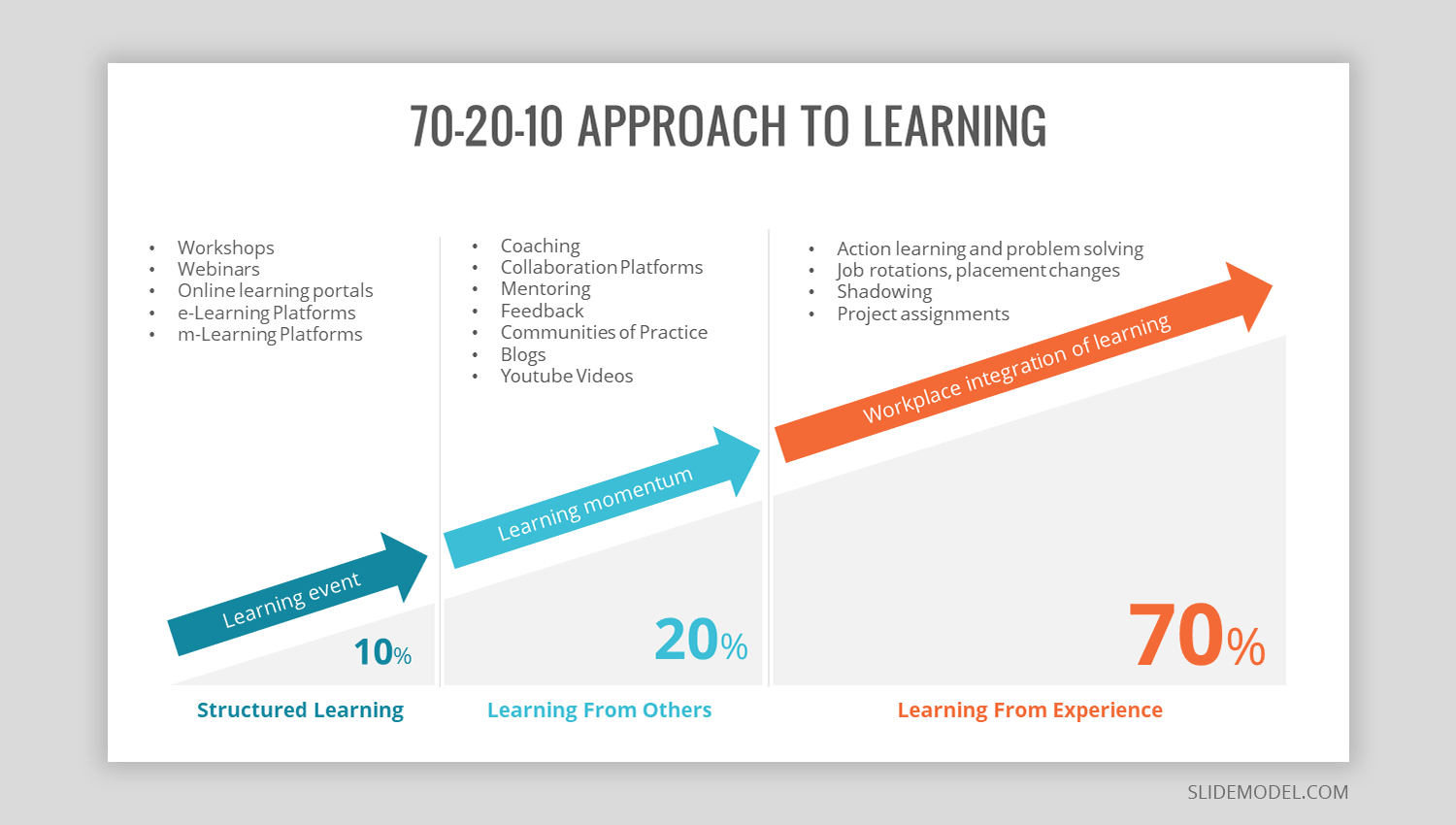 Source: 70-20-10 Approach to Learning PowerPoint template by SlideModel
20% Social Learning from Developmental Relationships
When people start a job there are a number of people who come across as mentors, coaches and experienced coworkers who help them develop their skills. This learning curve continues from the very first day at the first job in one's career and continues over the years from there onwards. Social learning according to the 70-20-10 model can be 20% of learning for an employee to enable effective development.
10% Formal Learning from Coursework and Training
Formal trainings are offered by organizations to enable their employees to learn new skills, improve existing ones and to adapt to the ever-changing landscape of a profession. However, many courses can end up leaving employees bored and tired, with no real benefit. Many times, such trainings can end up as a form of tokenism to impress bosses rather than adding value to professional skills. This is why reducing trainings and coursework to 10% can be effective for an employee's development.
Application of the 70-20-10 Model for Learning and Development
Now that we have covered the basics of the 70-20-10 model, let's explore how to implement the model in an organization.
10% of Formal Learning
Remember that the 70-20-10 model was a result of a survey which concluded that employees surveyed had a mere 10% learning tendency from formal learning. This means that organizations spending a lot of money on trainings and coursework aren't necessarily doing their employees any favour. It can be counterproductive and a waste of resources. By employing consultants, trainers and training programmes which can charge an extravagant amount of money for very little time and resources offered for trainings.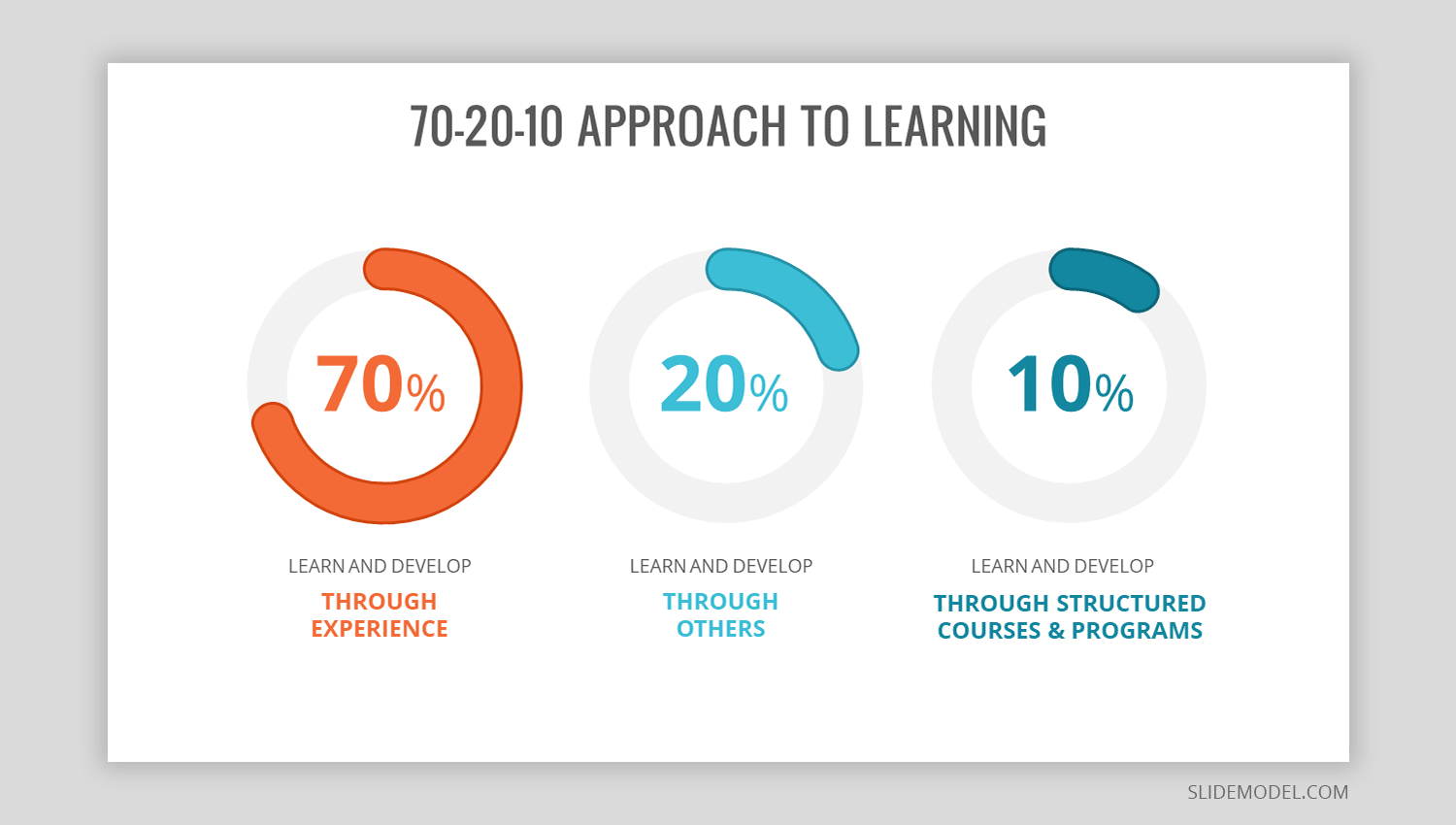 Source: 70-20-10 Approach to Learning PowerPoint template by SlideModel
Transform Formal Learning with Structured Learning
If formal learning is to be reduced to 10% as per the 70-20-10 model, how can they be made effective? A good way of making the most out of formal learning is to use a structured learning approach. This is not to say that other types of formal learning should be necessarily eliminated but rather replaced with an approach where employees do not fear committing mistakes and can experiment around.
Many IT professionals use virtual machines and networks to simulate operating systems and network behavior to test new products and to learn how to troubleshoot them. This enables them to avoid messing with the real network and also to learn something new. Similarly, employees can be allowed to experiment with new methods, processes and techniques in a controlled or simulated environment to enable them to learn new skills in a structured manner. This can also make learning experiences more interesting instead of wasting hours in dull and boring trainings. Google has a 20% rule by which it allows employees to spend 20% time on side projects. This has helped the company remain one of the top innovators in the Tech industry.
20% of Social Learning
Social learning entails skills learned at the workplace from social interactions. Your manager, coworker or a senior official at the workplace is likely to teach you something related to your job. It can be a new procedure, some help for a task or mentoring. Many people can have a long-term association with their mentors, where they continue to seek their advice even after switching jobs. Therefore, incentivizing peer learning can be an asset for a company.
Provide Employees Incentives for Peer Learning
Organizations can provide employees incentives for peer learning. A sales manager can have the incentive of helping his/her sales team if he knows that better performance is likely to be rewarded. This reward can be extended not only to managers but also team members to mitigate possible resentment and to encourage an environment where peer learning is encouraged. Some organizations offer profit sharing initiatives for employees. By creating an enabling learning environment by incentivizing employees, peer learning can be enhanced not only within a department but across the organization by creating a win-win situation for everyone.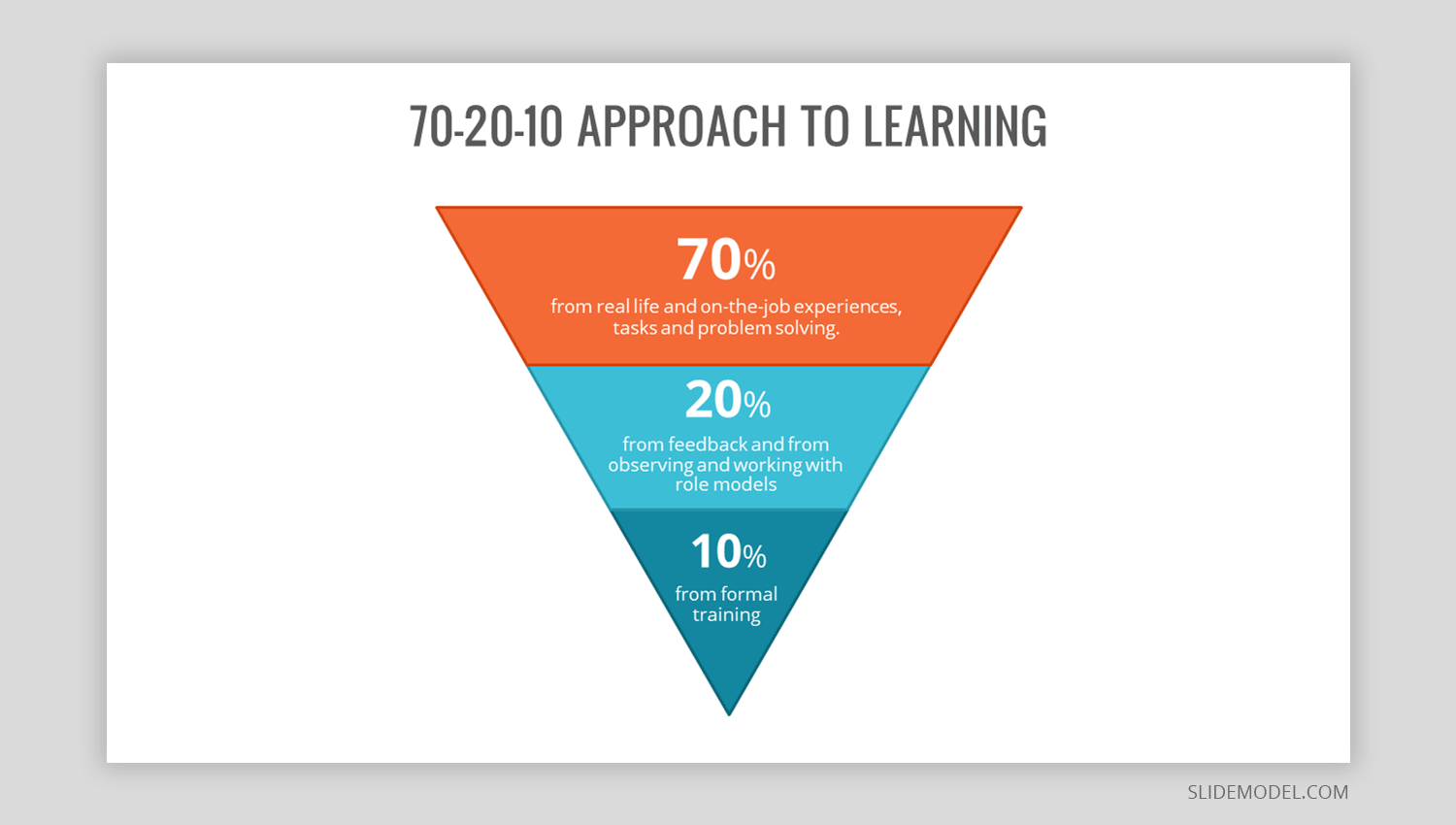 Source: 70-20-10 Approach to Learning PowerPoint template by SlideModel
70% Experiential Learning
If 70% of what employees learn is on the job, how can they be helped in improving their work? Instead of leaving employees to their devices, it is best to minimize trial and error via two approaches, i.e. on the job feedback and just in time learning.
Provide on the Job Feedback Mechanism
Sometimes there are options for rating employees after checking out. This means that they are instantly rated based on performance. These ratings can allow companies to hold their employees accountable, offer rewards for good performance, aid employee learning through feedback and improve customer satisfaction.
When an employee knows that he/she is to be rated for their interaction with customers, they can be more careful in their conduct and try harder to find ways to do a good job. Furthermore, the incentive of a reward can often further motivate an employee. Web hosting providers, food delivery services and telecom companies are a few examples of the type of organizations which use this mechanism.
Make use of Just-in-Time Training
What happens when an employee is left without adequate instructions regarding a specific protocol, issue or process? What if a customer has an unprecedented query to which you can't find an answer? Facing a roadblock in executing tasks is all too common for new employees who are left without proper instructions when adopting new procedures. Moreover, it can be hard for new employees to remember all the procedures. This is where just-in-time learning can be useful.
Just-in-time learning implies having instructional material available to consult for instant learning. For example, a customer might ask a support representative during a phone call regarding an e-banking option which he/she might not know about. By consulting instant information such as a video or written instruction such a query can be answered. The instructions might even be available publicly for the customer to be directed towards (e.g. an instructional YouTube video or webpage).
Just-in-time should provide the job aids, e-learning content, short videos or written material in a manner which is tailored to aid the learning of the employee according to specific learning requirements. Content that is too vague or too complex for example, might not be very useful when someone needs to consult information on a short notice.
Final Words
Over the years there has been some criticism of the 70/20/10 model since there have been questions raised regarding its scientific validation. However, many organizations have continued to adopt the mode because it offers a basic concept which is quite logical, i.e. 70% on the job learning, 20% peer learning and 10% formal learning can be an effective learning mechanism.
Anyone who has attended formal company trainings would tell you that more often than not people can end up dozing off or attend such trainings with a blank mind during various sessions. On the contrary, on the job and peer learning can be more effective for employees, especially the former being the bulk of how employees learn and develop at the workplace.