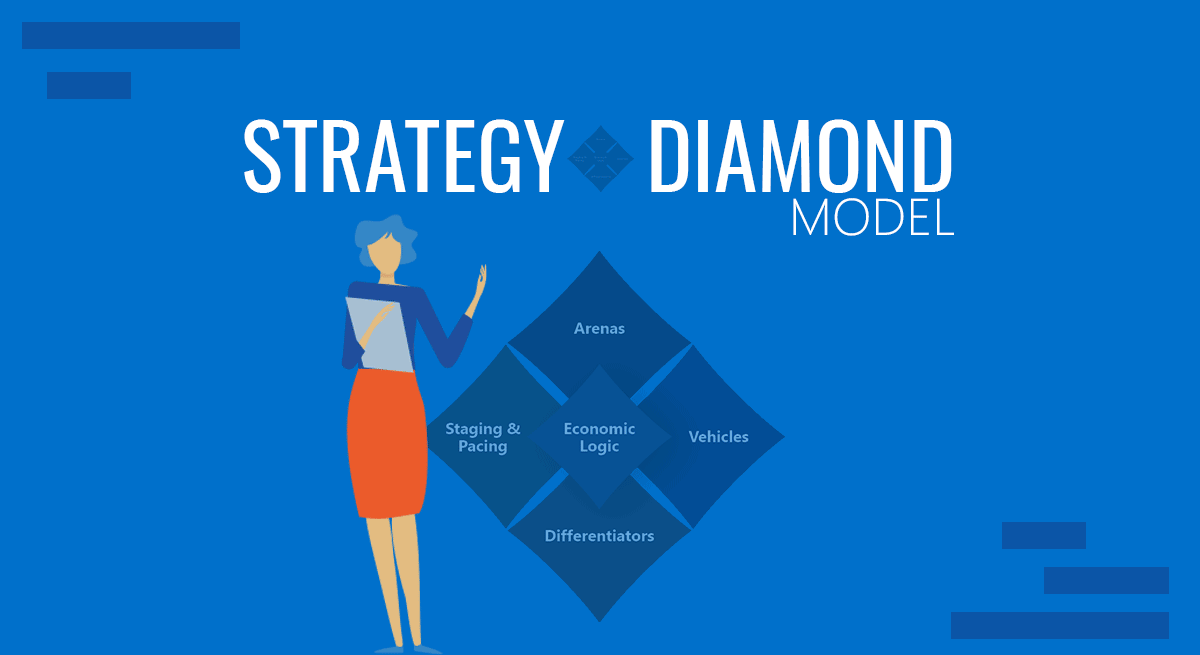 An organization can benefit from a well-organized and integrated strategy to achieve its objectives. Henry Mintzberg stated: "Strategy is not the consequence of planning, but the opposite: its starting point." The strategy is a concept based on which a firm aims to define its mission and vision.
In this article, we help you interpret and develop a practical approach to devise a clear, strategic plan using the Strategy Diamond model, a tool that will help to make critical strategic decisions.
What is the Strategy Diamond Model?
The strategy diamond is a tool designed by researchers Don Hambrick and Jim Fredrickson to formulate and deliver a well-planned strategy by integrating its multiple facets. This Hambricks Diamond framework outlines the insights that managers and leaders need to build a strategic plan and articulate desired business goals at all organizational levels. With this integrated approach, you can achieve an effortless implementation of your well-planned strategy. Let's explore the model in great detail.
"Strategy is not the consequence of planning, but the opposite: its starting point."
The Elements of Strategy Diamond Model
As discussed, a strategy is not one entity but an integration of a set of parts. In order to carry out a well-structured process, it is essential to achieve a robust, reinforced consistency among the elements of the strategy itself. These elements of strategy diamond include Arenas, Differentiators, Vehicles, Staging, and Economic Logic. Each facet of this diamond model is mutually reinforcing and interrelated.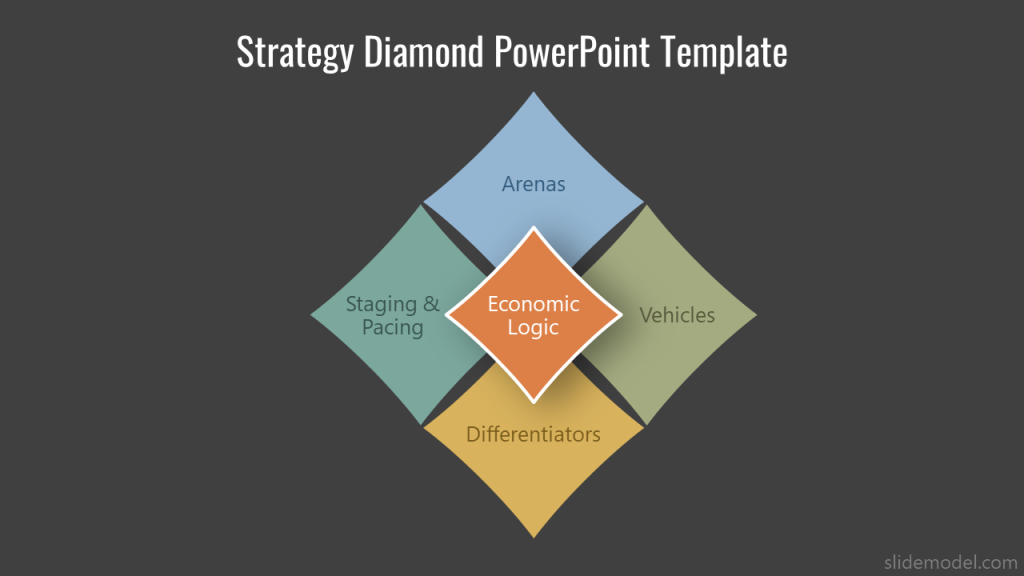 Each element corresponds to an answer to a question that may arise while putting the desired strategy to action.
Arenas – "Where will the firm be active, and with how much emphasis?"
Vehicles – "How will we get there?"
Differentiation – "How will we win?"
Staging – "What will be our speed and sequence of moves?"
Economic Logic – "How will we obtain our returns?"
Let's talk about the components of the diamond framework along with some specific applications at length.
1. Arenas
This element of the Strategy Diamond framework suggests that while identifying arenas, the strategist needs to specify where the business will be active. The entrepreneur or the strategist has to decide which segment is deemed centrally essential and which segments are identified as secondary. These may include market segments, geographical regions, products, service categories, customer demographics and distribution channels.
For instance, a biotechnology company specified its arenas: it intended to develop diagnostic and therapeutic products for battling certain cancers using T-cell receptor technology. The company chose to target the U.S. and major European markets as its geographic scope. These preferred arenas were very particular, with products and markets even targeted by name.
2. Vehicles
This element of the Strategy Diamond Model emphasizes the modes or ways an organization expands its presence in its chosen areas. This mode can be in the form of mergers and acquisitions, a joint venture, licensing or franchising, a strategic alliance or a partnership. Research also validated that acquisitions or joint ventures can help companies gain highly advantageous and skilled capabilities.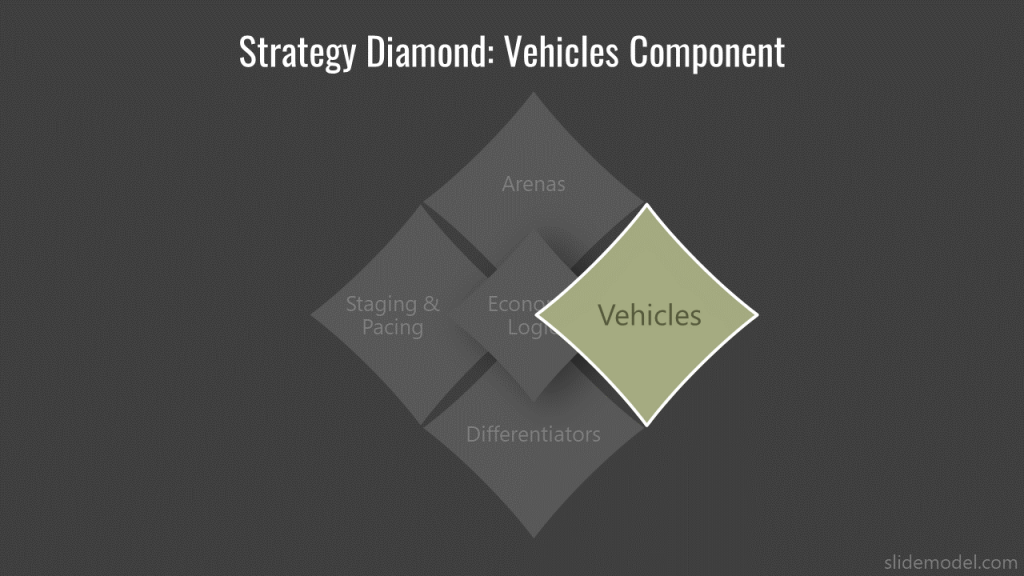 For example, The biotechnology company's strategists chose to depend on joint ventures to establish their new footprint in Europe. They also committed to acquisitions to expand their current diagnostic goods with medicinal products.
3. Differentiators
With this element of the Diamond Strategy framework, the organization focuses on setting itself ahead of competitors to attract customers. The factors that gauge the organization's rate of compelling marketplace advantage include branding and styling, customization, price point, reliability, speed of service, and brand image.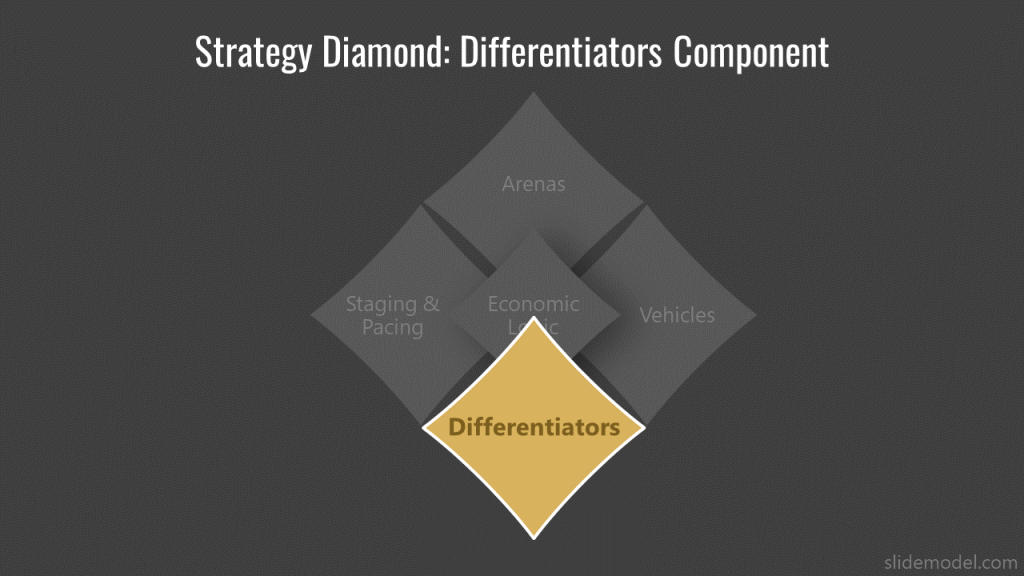 For example, The investment company Goldman Sachs provides customers with exceptional service by maintaining close relations with client managers and coordinating the vast array of services it offers.
4. Staging and pacing
The fourth element of the Strategy Diamond Model helps organizations determine the pace and the sequence of execution of their well-organized strategy. Several factors, including resources, staff, funds, the urgency to execute and the achievement of certain thresholds, drive the decisions about staging strategy.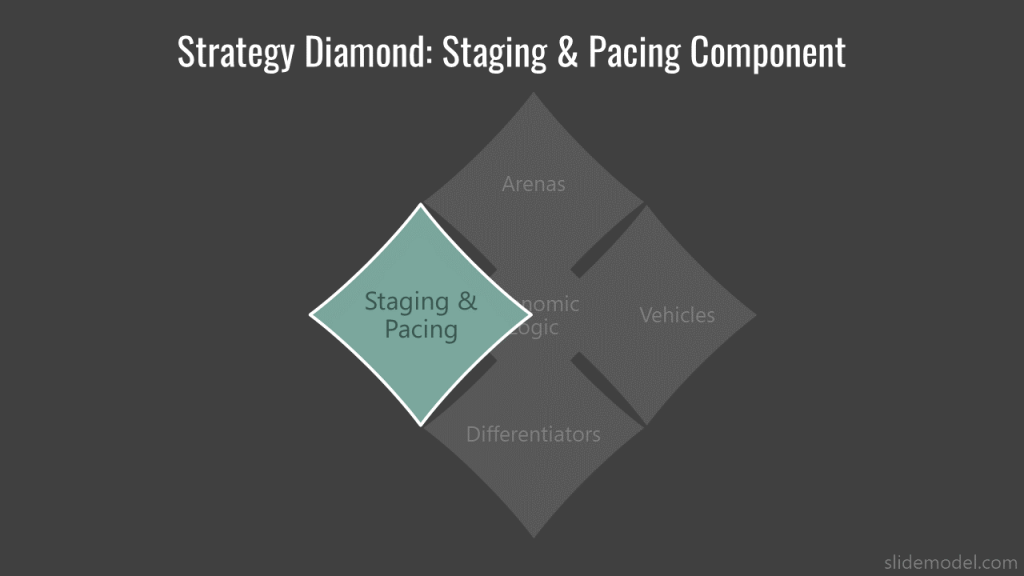 For example, a printing equipment firm had committed to expanding its product line and going global. The executives determined that the new goods should be added first, in stage one, because the best sales representatives they planned to employ to expand internationally would not be able or willing to represent a limited product line properly. Even while the executives were eager to grow regionally, they would have wasted a lot of time and money if they had tried to do so without the complete line in place.
5. Economic Logic
The most effective strategies have a core economic logic that functions as a profit-generating pivot. The fifth element in a Diamond Strategy framework focuses on maximizing returns or profits. This element includes scalability, scope and willingness of a customer to pay for a premium service.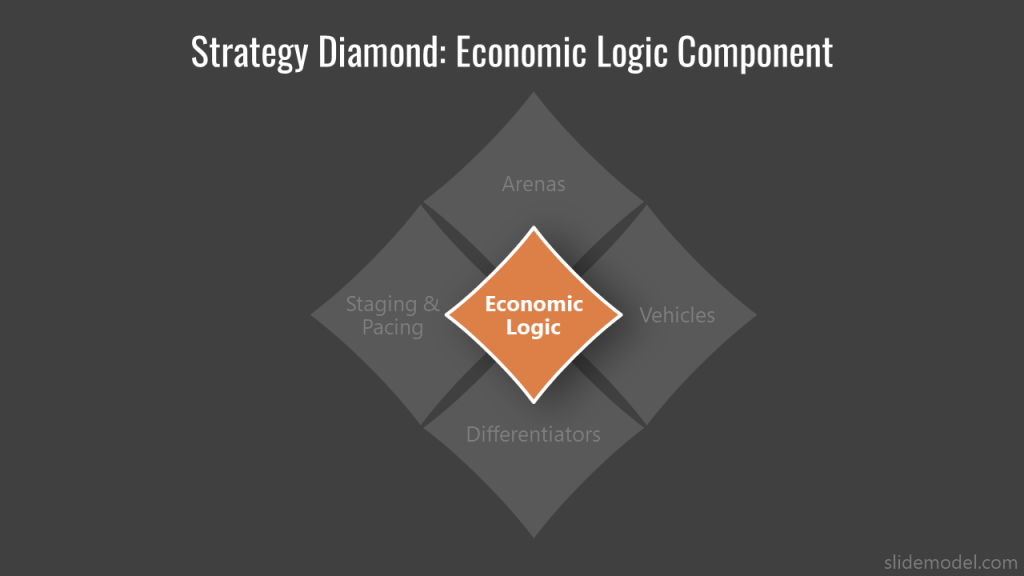 For instance, the New York Times can charge readers a very high price because of its exceptional journalistic quality. Additionally, as the Times has been delivering a large number of dedicated, affluent readers, it can charge its advertisers high prices.
Strategy Diamond Examples
The Strategy Diamond framework has played a pivotal role for many organizations. Some of the examples are as follows:
IKEA Example:
A leading furniture company based in Sweden, sells Scandinavian-style furnishings to customers across the globe.
Arena: It designs and retails furniture and outsources manufacturing.
Vehicle: IKEA has marked its presence globally with wholly-owned stores.
Differentiation: IKEA has unique retail stores worldwide that sell good designs and better quality products at affordable prices.
Staging and Pacing: This Sweden furnishing company aimed at expanding one country at a time with each entry supported by tremendous marketing and advertising.
Economic Logic: IKEA's economic Logic is based mainly on scale economies and replication efficiency.
A strategic plan aligned with Strategy Diamond has indeed helped IKEA attain a sustainable competitive advantage compared to its peers.
Walt Disney Company Example:
It implies a very well-explained example of the application of strategy cascade. Walt Disney diversified its forte from an animated film company to a multi-business conglomerate of hotels, theme parks, media and merchandising. The centralized strategy was based on family entertainment, and each of the units reinforced the strategy of the others and the primary corporate strategy. Disney has acquired well-renowned acclaim by integrating its diverse teams with a unified plan.
Why use the Strategy Diamond model?
Strategy Diamond is all about aligning your organization by bringing together different strategic choices parallel. With a strategy diamond model, you can devise a simple and easy-to-understand plan and can communicate it to your peers at the workplace.
You can even use this framework to formulate personal strategy easily by providing your stakeholders with a summary of an effective strategic plan.
The diamond model offers a checklist that you can use to monitor the organization's alignment with the designed plan. A Strategy Diamond framework can help you identify any obstacle and help in the smooth execution of your firm.
The instance of Gillette's strategy shift inaction serves as a model for other organizations considering a strategic shift. A strategy cascade reveals the effectiveness of strategy using the multilevel comparison of various diamond frameworks.
The multiple components of the diamond framework let you compare your firm's strategy with other stakeholders and present a fair idea of competitor analysis.
How to effectively present a Strategy Diamond?
Now that we have talked about the Strategy Diagram model and its key components let's walk you through its practical application in your organization.
Reusing Strategy Diamond framework PowerPoint templates, like those provided by SlideModel, can help develop effective strategies across markets and products. With this 100% editable diamond presentation template, you can discuss the five elements of the model and present the relationship between all five elements. It is a go-to model for multi-business enterprises at all organizational levels. Make your partners and other stakeholders get acquainted with your firm's foolproof strategy with this business strategy diamond template.
We present you with ready-made slides for presentations that can be used as per your choice to aid you in decision-making, explaining the reasoning of your decisions and presenting the conclusions to an audience. Implement your well-devised strategy with these completely editable PPT slides.
Whether you are a strategist, a consultant, or an educator, you can use these vector-based illustrations to customize as per your needs and ultimately impress your audience. Let your team develop your next strategy by making the most of this editable diamond model template without investing any extra time or effort. With different color themes and vectors which you can alter, it is possible to have a full-fledged presentation of your choice. Download these PPT slides to add the content as per your requirement.
Final Words
A Strategy Diamond framework puts a company in a position to surpass its competition if the strategy is implemented correctly. Create an exceptional strategic plan with the help of a ready-to-use business strategy diamond template.