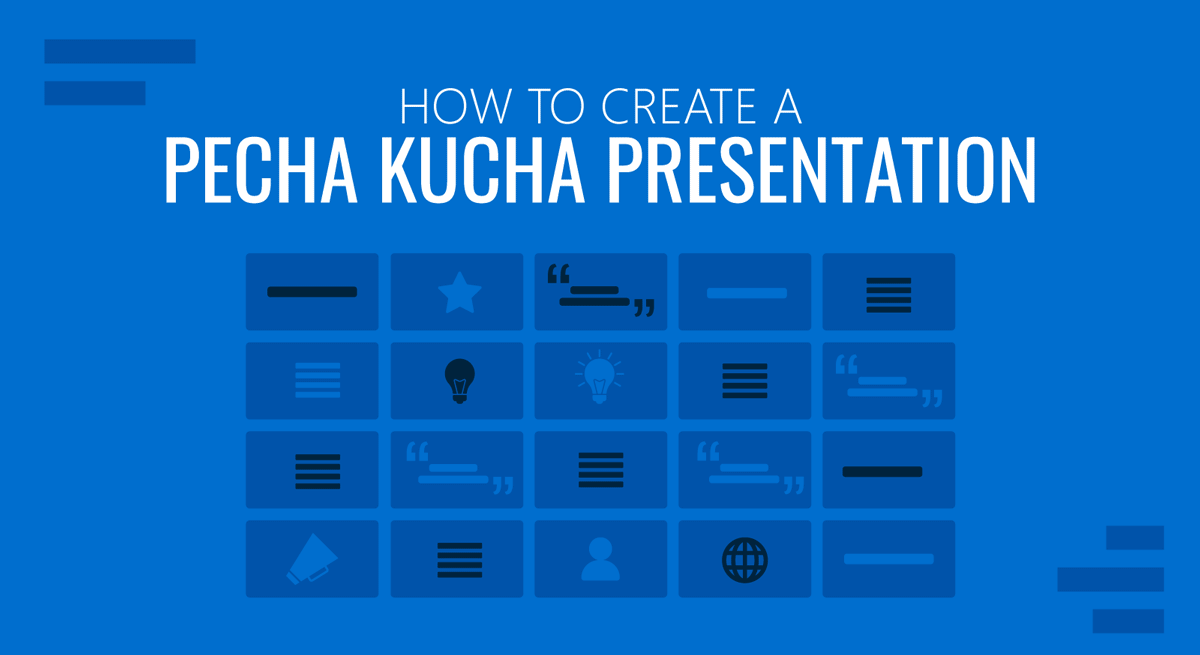 Brevity is considered the soul of wit, but it can also be a powerful technique for effective communication. When you say more with less, you capture your audience's attention and leave a lasting impression. This is precisely what Pecha Kucha is all about.
It's a quick-fire format presentation where the speaker tells a story using photos within strict timing.
Whether you're a seasoned presenter or just starting, Pecha Kucha has something to offer those who want to take their presentations to the next level. In this article, we'll dive into its benefits as a presentation style and provide tips and strategies for creating effective Pecha Kucha presentations.
What Is Pecha Kucha Presentation?
The format of a Pecha Kucha, or 20×20 presentation, is simple: the presenter shows 20 slides containing an image, each displaying for exactly 20 seconds. The images will auto-forward, so there's no way of going back to or skipping ahead of the slides. This means each presentation is exactly 6 minutes and 40 seconds long.
This style is quite similar to lightning talk, where the speakers have five minutes to present a five-slide presentation, or the ignite talk, where presenters have 15 seconds to present each slide of a 20-slide presentation.
The challenge for presenters is to convey their idea with the combined use of images and concise, impactful statements within this tight time frame.
Pecha Kucha, which means "chit-chat" in Japanese, was created by architects Astrid Klein and Mark Dytham, who seek to encourage a fast-paced presentation style. Since then, it has become a worldwide phenomenon, used in settings ranging from academic conferences to business meetings and even informal gatherings.
The Benefits of Pecha Kucha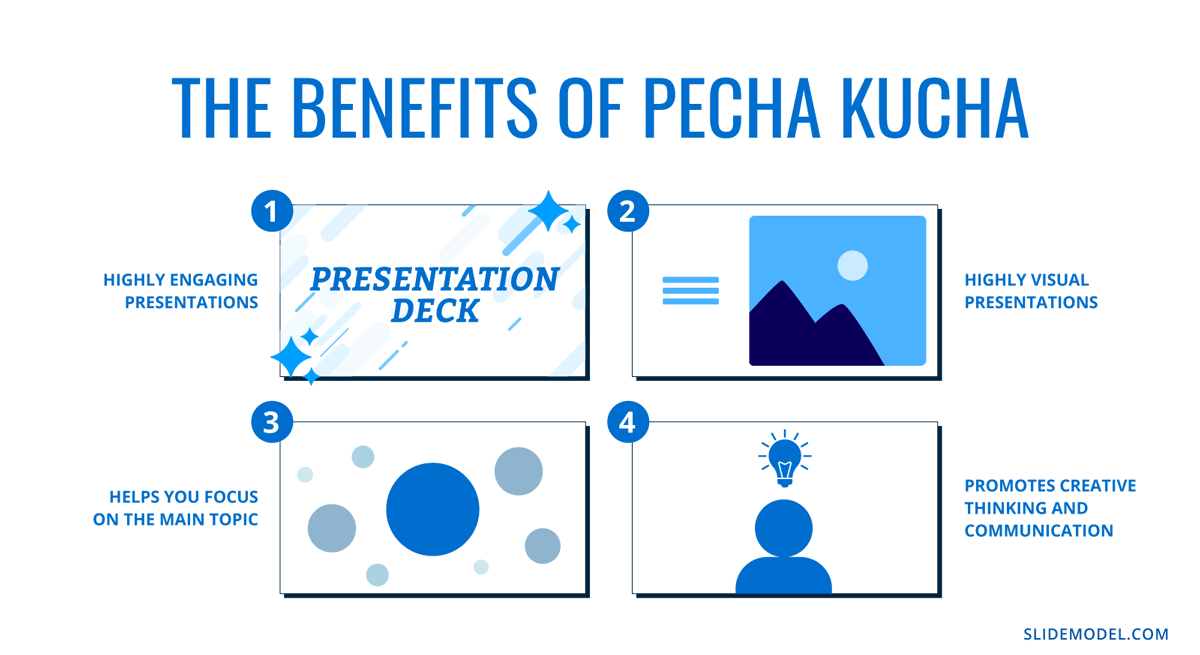 Pecha Kucha presentations are highly engaging. The timing of Pecha Kucha presentations adds an element of excitement. Each slide changes every 20 seconds, keeping the audience engaged, and this helps hold their attention and prevents them from becoming distracted or disengaged.
Pecha Kucha helps you focus on the main topic. The time limit helps presenters stay on track and avoid going off on tangents, which can be a problem in more traditional presentations. This can be a valuable skill in the corporate world, where time is often limited, and getting to the point quickly is crucial.
Pecha Kucha presentations are highly visual. Because Pecha Kucha presentations rely heavily on visual aids, they can effectively communicate complex or abstract ideas to an audience. This helps make presentations more memorable and impactful, as the brain processes visual information more quickly and effectively than written or spoken information.
Pecha Kucha promotes creative thinking and communication. The format challenges presenters to distill their ideas into a concise and visually engaging format. So instead of running around the bush and filling in their talk with non-essential information, they focus on the most important aspects of their message.
Furthermore, the challenge of syncing the message with images stimulates creativity by inspiring connections and associations between ideas.
How to Make a Pecha Kucha
1. Define Your Main Message
Defining your main message, a.k.a thesis, is crucial in preparing a presentation or communication. When you can pinpoint the core message you want to convey during a presentation, it becomes easier to identify which information to include and which to eliminate.
To narrow down your presentation's key message or idea, ask yourself the following questions.
What is the purpose of my presentation – to inform, to inspire, to convince?
What do I want my audience to know?
What do I want my audience to do after the presentation?
Your main message should be a direct answer to these questions and something your audience can easily grasp and remember.
Example: Let's say you are giving a presentation on a new diet cereal bar product. A good thesis could be, "Diet cereal bars are a convenient and nutritious snack option that can help you maintain a healthy lifestyle."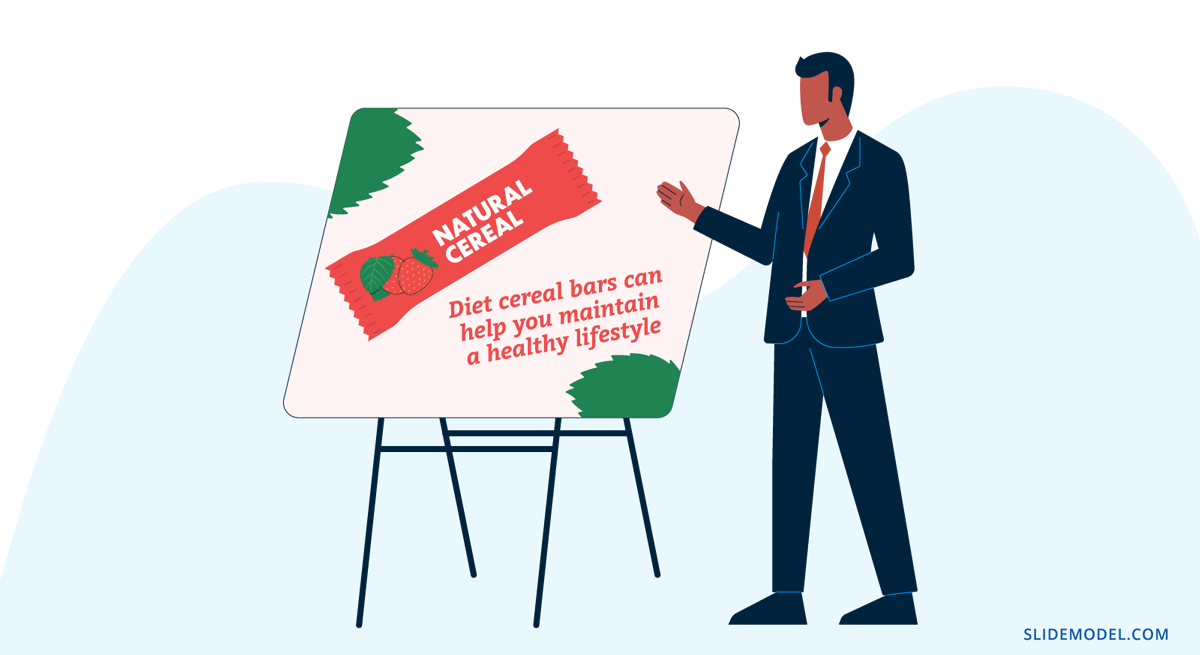 From here, you can start outlining and structure your presentation. Let the main message lead the way.
So, in our example, you can cite studies showing the health benefits of eating a nutritious diet and present the nutritional value of cereal bars that can help achieve that goal.
2. Select the Best Visuals
You can identify the main message of your presentation and the points that go along with it. The second step would be turning them into visuals.
Many presentation guides will tell you how important visualizations are in a PowerPoint, but Pecha Kucha takes that even further. As mentioned, it emphasizes storytelling with the use of images.
You may still use text to provide context for visual elements, but use it sparingly and avoid paragraphs. Remember, you only have 20 seconds to present each slide, so your audience won't have the time to read lengthy texts.
Instead, you should use high-quality images directly related to your message. This will help reinforce your message and ensure your visuals are not distracting or confusing.
It's a hard rule to avoid cartoonish and clipart photos, especially in the business setting, as they make your slide look tacky. This might mean using more modern, minimalist images for a sleek, professional look or more vibrant, colorful images for a more playful and creative feel.
It's also important to consider the overall aesthetic of your presentation template and choose images consistent with that theme. If you represent a brand, use slides with the look and feel you are known for.
Example: In our diet cereal bar example, you may choose images that showcase the bar's ingredients, such as images of whole grains, nuts, and dried fruits. You could also use images of people engaging in healthy activities, such as jogging or hiking, to reinforce the idea that the cereal bar is a healthy snack option for people on the go.
3. Structure Your Presentation
Like other forms of presentation, a Pecha Kucha presentation should have a clear structure – no matter how short. You may need it more in this scenario to avoid losing any of your precious time going off on tangents.
Conversely, it will be easier for your audience to follow along and understand your message if you present it organized and coherently.
You can follow several presentation structures, but for something like Pecha Kucha, we recommend a more linear style. One that has an introduction, body, and conclusion.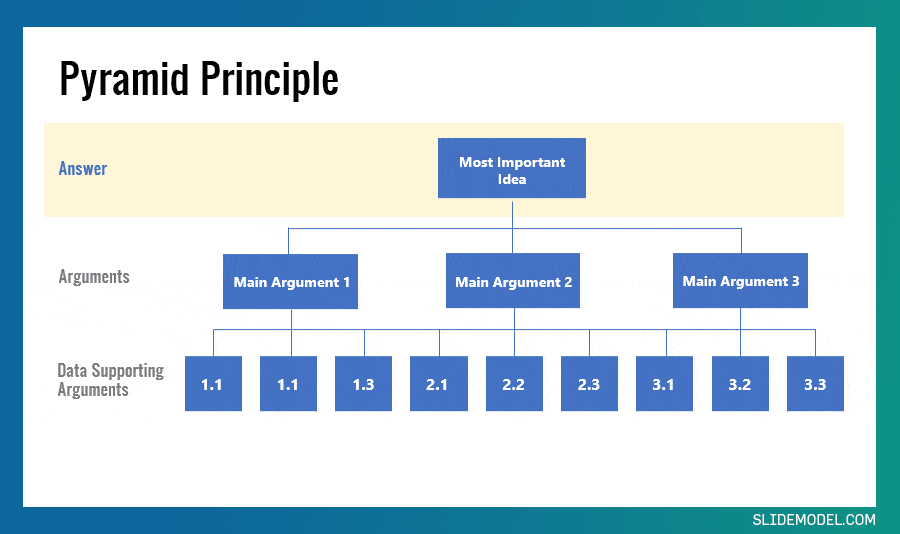 The Pyramid Principle has all these elements and might work in a fast-paced presentation format. In this style, the main idea or conclusion is presented at the beginning, followed by a series of supporting points that are organized hierarchically. This approach can help your audience engage in critical thinking, as they are encouraged to consider how each piece of information relates to the larger message being presented.
Example: Let's return to our diet cereal bar example to illustrate how the Pyramid Principle can be applied in a Pecha Kucha presentation.
Open your presentation by stating your main idea or message: "Our diet cereal bars are a convenient and nutritious snack option that can help you maintain a healthy lifestyle."
Then, discuss the supporting points that further develop the main idea.
You may discuss the natural ingredients and X calories it contains, making it a healthy snack option.
You may talk about the range of delicious flavors that it comes with, establishing the idea that it's a nutritious option that does not compromise on taste.
You may talk about the convenient packaging that makes it perfect for busy people on the go.
4. Practice, practice, practice
Pecha Kucha's presentation is all about timing and mastery, so you must conduct a dry run to ensure that you'd feel comfortable with the flow of your presentation on the actual delivery.
Rehearse your presentation multiple times as if it's the real thing. This means setting a strict timer for 20 seconds per slide to ensure that you are staying on track and not going over time. Google Slide and PowerPoint have an option that automatically advances slides within several seconds.
Although 20 seconds may feel very short, speak at a moderate pace to ensure you are not rushing through the presentation. But, also avoid lingering on any one slide for too long.
Tips and Tricks for an Effective Pecha Kucha Delivery
1. Using Engaging Storytelling Techniques
Although we did say that you may state your main idea at the beginning of your presentation, you don't just get to drop the bomb, or it will sound dry. Using an engaging story will help you do this with finesse.
People are naturally drawn to stories – they love journeys. Structure your presentation like a story, with a clear beginning, middle, and end. Sharing personal experiences or anecdotes can help to humanize your presentation and make it more relatable for your audience.
Example: You can share a personal anecdote about your struggles with maintaining a healthy diet. You could talk about how you struggled to find healthy snack options while working long hours at your desk job.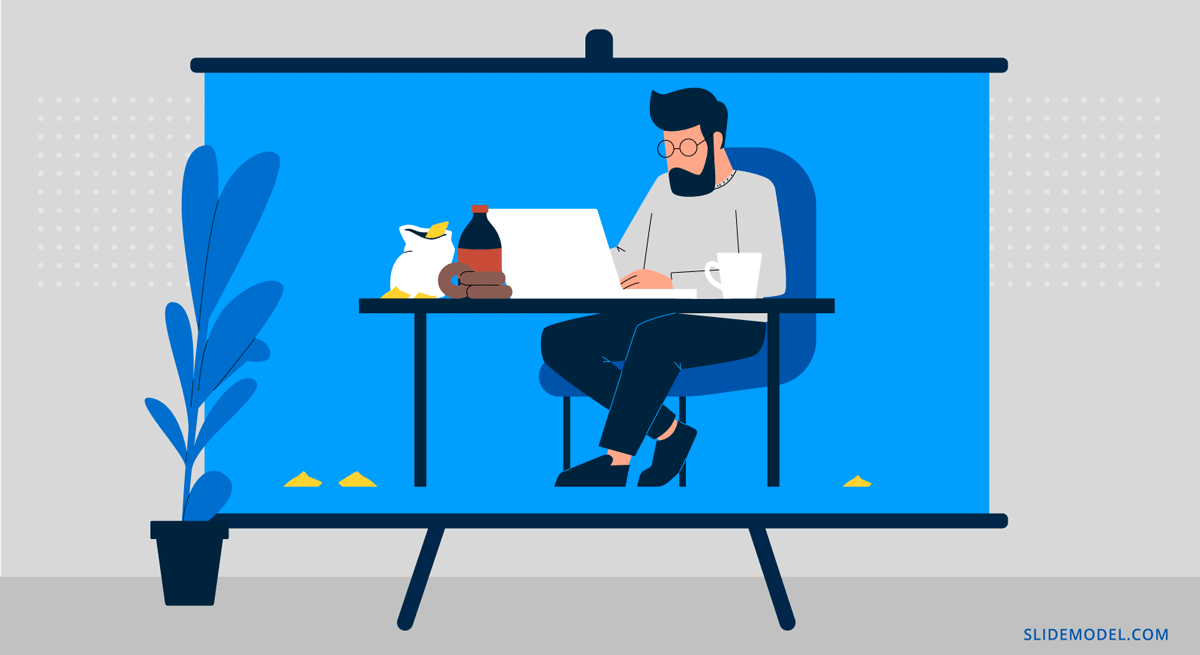 2. Connecting With Your Audience and Maintaining It
Sharing a story or a personal experience is one way to connect with your audience. Still, it isn't just about getting their attention – keeping their attention on you is far more important.
It's common advice for speakers to keep eye contact with the audience. We'd like to add something to this – look at your audience intently and respond to what you see. Knowing your audience's nonverbal cues can help you connect with them and respond to their needs.
Speaking of nonverbal, you should be aware of your body language too. Use intentional hand gestures, but avoid excessive movements that may take the audience's attention from you.
Finally, don't forget to smile. Smiling helps convey a positive and approachable attitude and shows that you like your audience.
3. Handling Unexpected Challenges Or Technical Issues
With over six minutes to present your case, there should be no room for mistakes when making a Pecha Kucha presentation. The best advice is to have a backup plan for your backup plan.
No, we don't mean carrying 2 laptops and 2 projectors around! But it's best practice to have a USB drive with your presentation saved on it, just in case. You may also save your presentation on the cloud if you lose both copies on your device and external drive.
In the event of a complete technology failure, be ready to present without the slides. Remember, the slides are only a visual aid, and your delivery and message are the most important aspects of your presentation.
Conclusion
Pecha Kucha makes it possible to deliver a compelling presentation within minutes. Remember to keep your main message at the forefront when creating this type of presentation, choose high-quality visuals that reinforce your message, and practice your timing to ensure your presentation flows smoothly. With these tips, you can deliver a presentation that leaves a lasting impression on your audience.