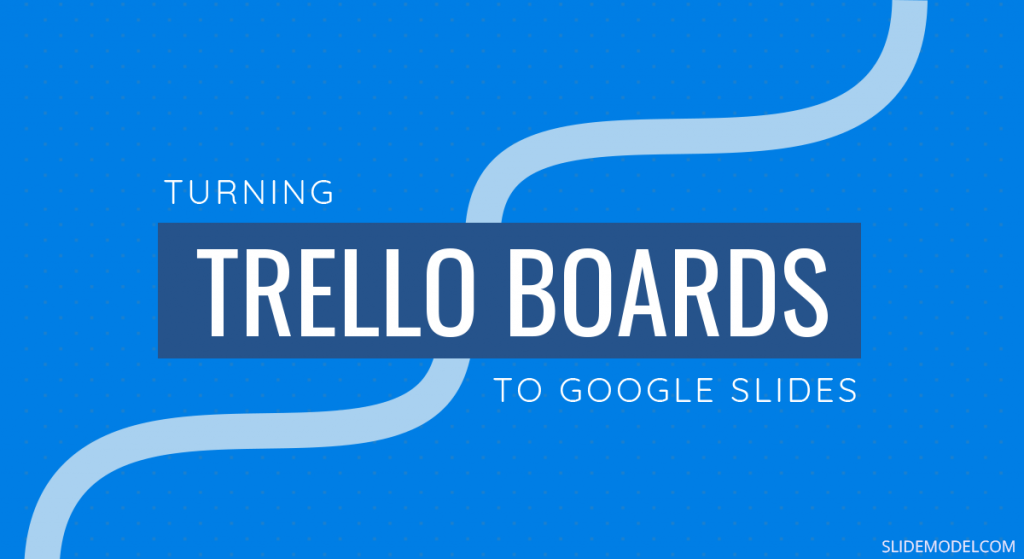 Many project managers use complex tools to manage their projects and workflow, such as application suites like Zendesk, Zoho Projects, and Salesforce. However, for someone looking to make things simple, the emphasis is not on complexity but on making things easier. This is where tools like Trello have been quite handy in recent years. Due to the ease of use, many people understand the basics of using Trello. However, they are often not aware of simple tips to make Trello powerful, such as converting a Trello board into a Google Slides presentation or a PowerPoint template.
Presentations, Productivity and Trello Boards
If you're new to digital boards' concept, to manage projects, tasks, and workflow, you might find yourself wondering what is Trello? It is an app used for making Kanban lists. Kanban means a signboard or billboard in Japanese. A lean manufacturing system by the same name was developed at Toyota in 1963. As the name implies, a Kanban board, as the name implies, is used to manage work by visually displaying it in the form of cards in various columns.
Other than Trello, the concept of using a Kanban board has been incorporated by many project management applications, including Asana, Jira, Microsoft Planner, etc. Some would even compare the Google Keep app to a Kanban-style app for making lists similar to Kanban boards. Trello app's simplicity has made it famous among project managers and people looking to organize their workflow and projects systematically. This also comes with other options you would expect in any modern app of this type, such as the utility to share your boards, collaborate with others, and integrate other apps to improve workflow and productivity.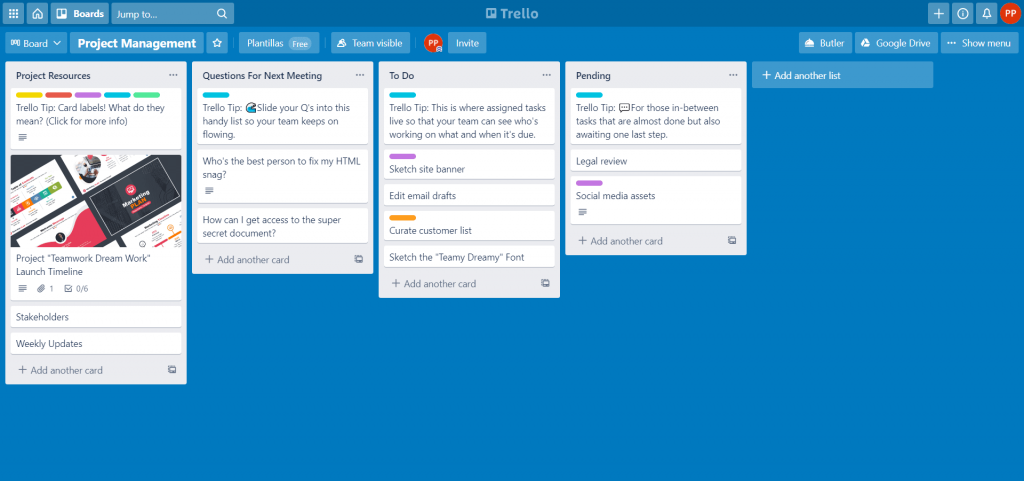 Trello boards are accessible via the web, Android, and iOS apps, and via desktop apps for Mac and Windows. The platform itself is supported across all modern browsers, be it Chrome, Firefox, Microsoft Edge, or Safari.
Since Trello boards are already organized in a manner that is easy enough for further use, converting them into a presentation can have many benefits. You can not only make your boards readily available for an impromptu presentation with a record of your workflow but also get feedback, get a bird's eye view of your boards as slides and convert raw ideas into slide decks.
How to Convert a Trello Board into a Google Slides Presentation
You can convert your Trello boards into a Google Slides presentation (or even PowerPoint) by integrating Google Drive to supercharge Trello features.
Let's take a look at how you can convert Trello to Google Slides in just a few easy steps.
Step 1: Enable Power-Up to Integrate Google Drive
To add various new features to Trello via third-party app integration, you need 'Power-Ups'. This section in Trello lets you pick and choose the integrations you want to use for your boards. To enable Google Drive integration, go to your Trello Board, click the menu for your board and select Power-Ups. From there, you can pick Google Drive to begin integration.
Once Power-Up is enabled, you will receive a confirmation message like this:

Step 2: Link Your Google Drive Account
As is the case with any app integration, you will require allowing access to your Google Drive account to proceed further.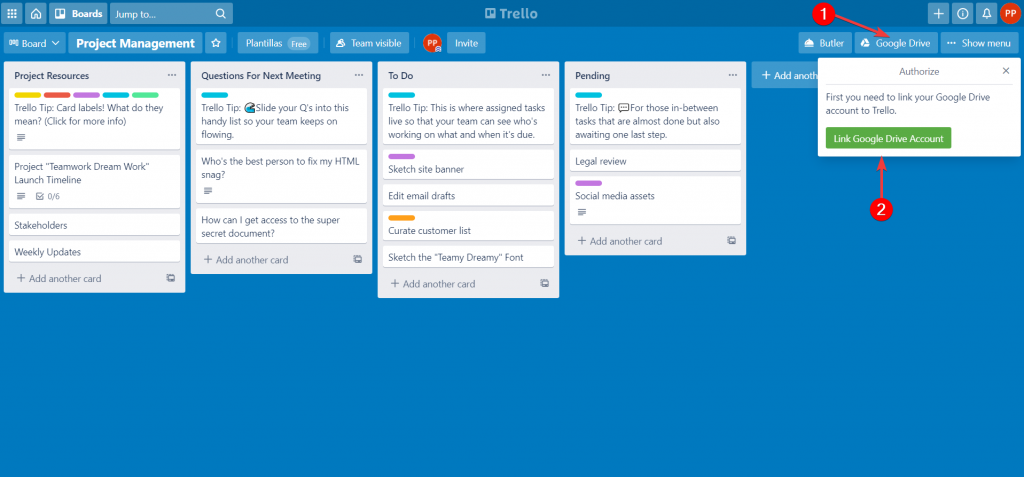 If you have integrated your Google account with any third-party app, you know that this is a standard procedure. If you are signed in to more than one Google account, you will be asked to pick the one you intend to use. Otherwise, in this step you'd need to sign in to your Google account.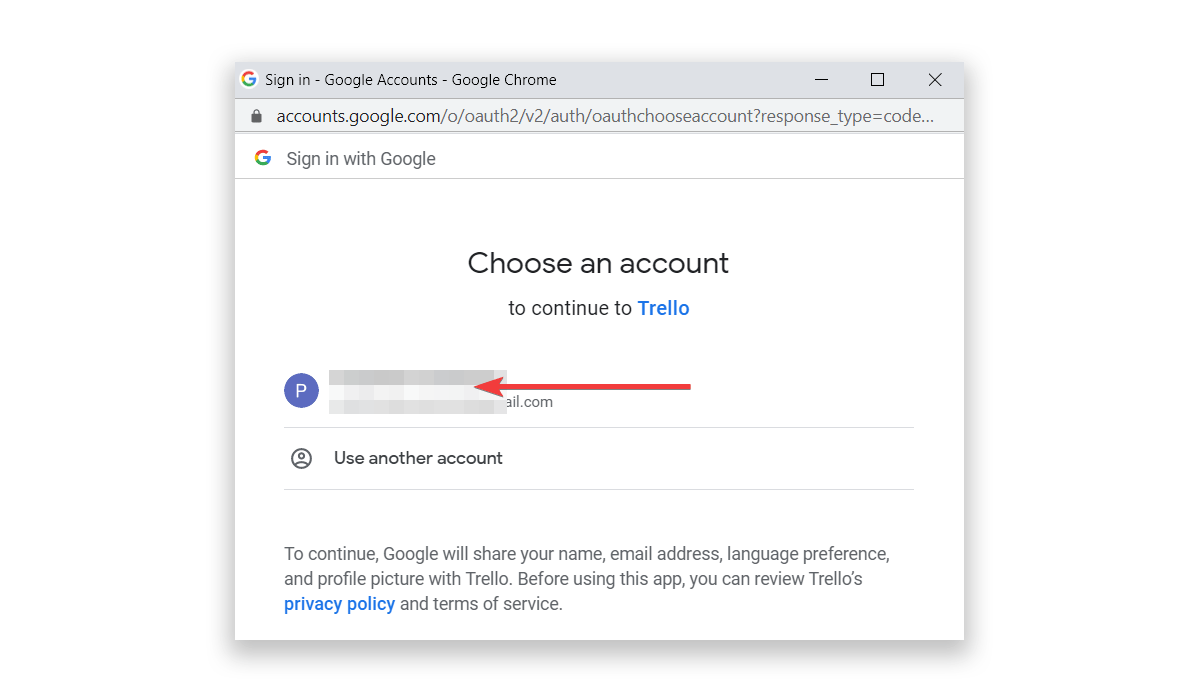 As part of the integration process, you will be asked to choose which Trello board to associate to the Google Drive integration.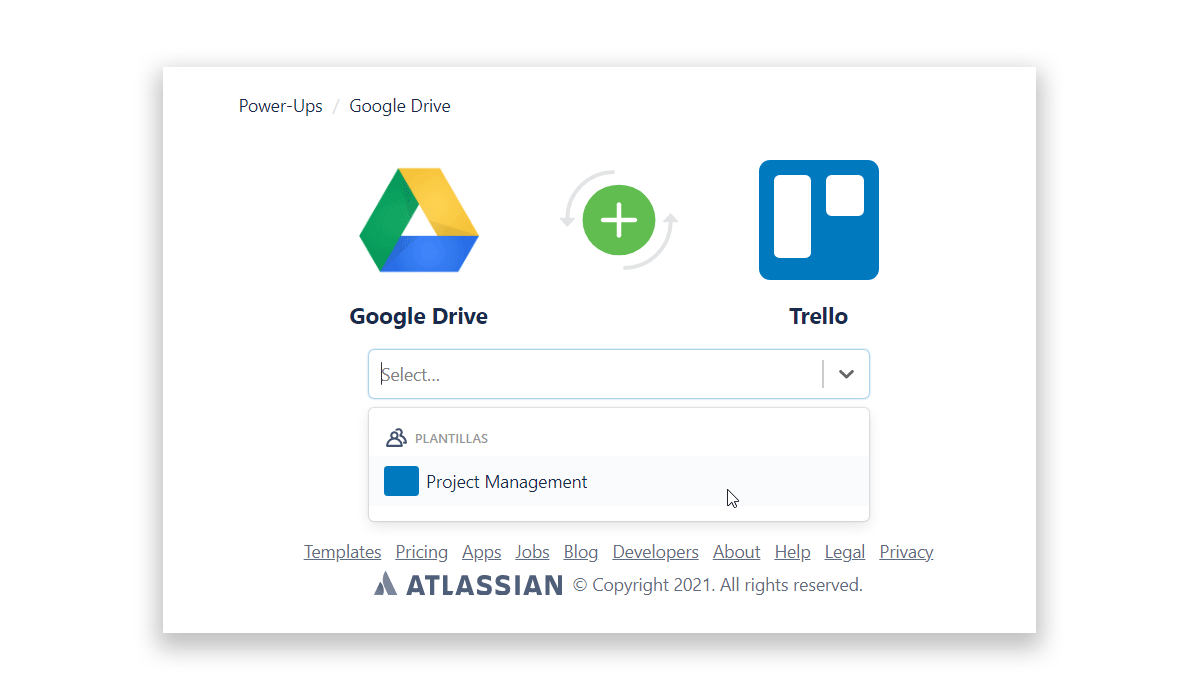 Step 3: Create Slides Presentation
After the integration between Trello and Google Drive is complete, you will see a Google Drive menu on the top right corner. Select this menu, followed by Create Slides Presentation to export your Trello board as a slide deck.
Exporting your board will have no effect on your original Trello board. You will get a sequence of slides made from it. The exported presentation will be saved into your Google Drive.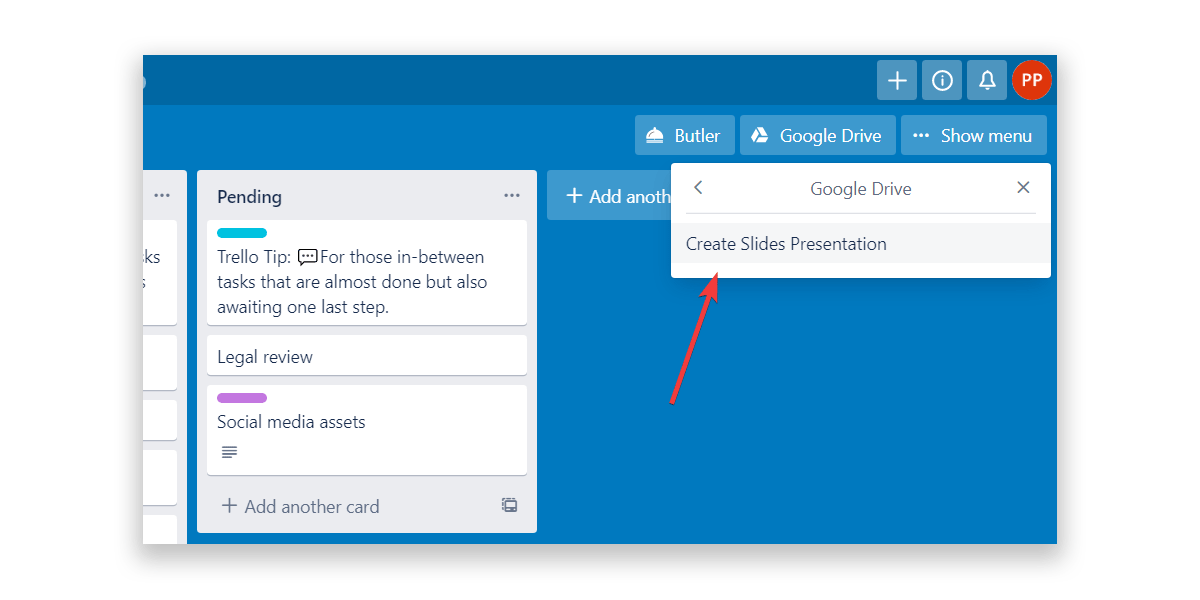 Tweak Your Trello Presentation
The title slide of your presentation will consist of the name of your board.
The following slides will be automatically organized in the same order as your board. You can edit these slides to tweak them according to need within Google Slides.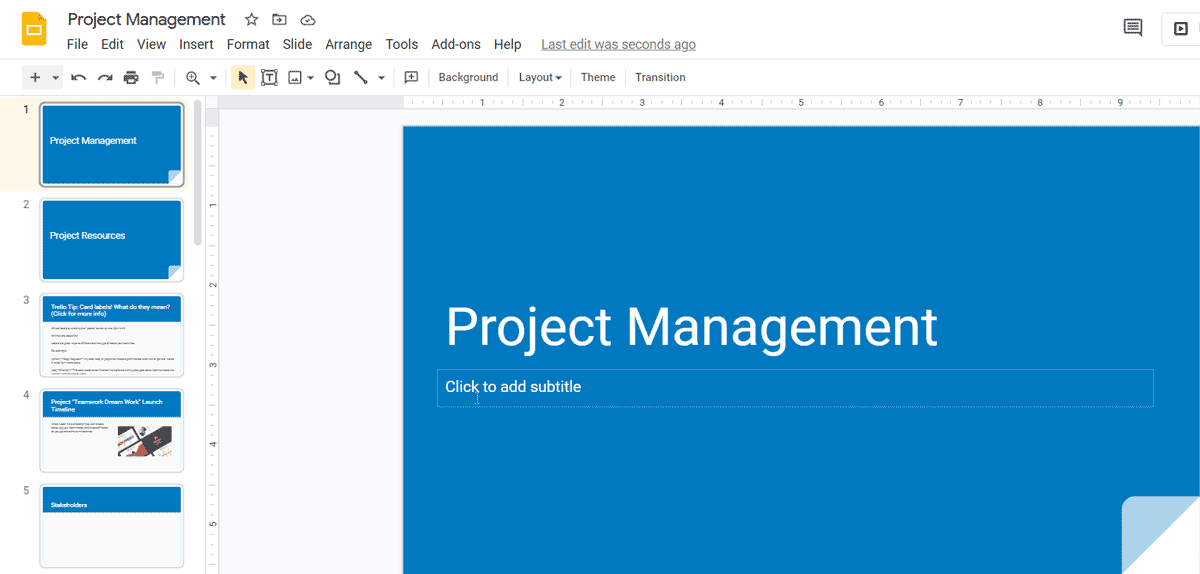 Share or Present Your Trello Presentation
You can share or present your new slide deck made from Trello using an Internet-connected browser or a Google Slides app. You can also use the sharing links to instantly share a Private or Public link with co-workers or clients. The link you generate can have privileges limited to viewing or editing options for people with the shared link. Based on the sharing settings you choose.
Disabling Google Drive Power-up in Trello
If at any point you intend to unlink your Google account from Trello, go to the menu of your Trello board, select Google Drive. From here, you can edit your Power-Up settings, remove personal settings and disable the integration for Google Drive.
Converting Your Trello Board to a PowerPoint Template or Presentation
You can also convert your Trello boards to a PowerPoint template or presentation. This can be done by first saving your board using the steps above and then saving your slides in PowerPoint format via File -> Download -> Microsoft PowerPoint (.pptx).
After downloading your deck, you can either use it as a PowerPoint template or presentation. In the case of the former, you can design a go-to deck to edit and create similar presentations by adding relevant information. This might include data in the form of charts, forecasts, tables, or timelines. To save your deck in other supported template formats such as .potx or .potm, you will require going to the File-> Save As menu in PowerPoint.
Converting your Google Slides presentation from a Trello board can also open new customization possibilities. You can use various design features such as the PowerPoint Designer, Morph, Animations, and Transitions in PowerPoint to make your slide deck more appealing. If you are familiar with PowerPoint Designer, it provides automatic suggestions for design, as you build your deck. Similarly, Morph can be a great way to animate your slide content to dazzle your audience. If you're not very good at using Morph, there are always Transitions and Animations to work with.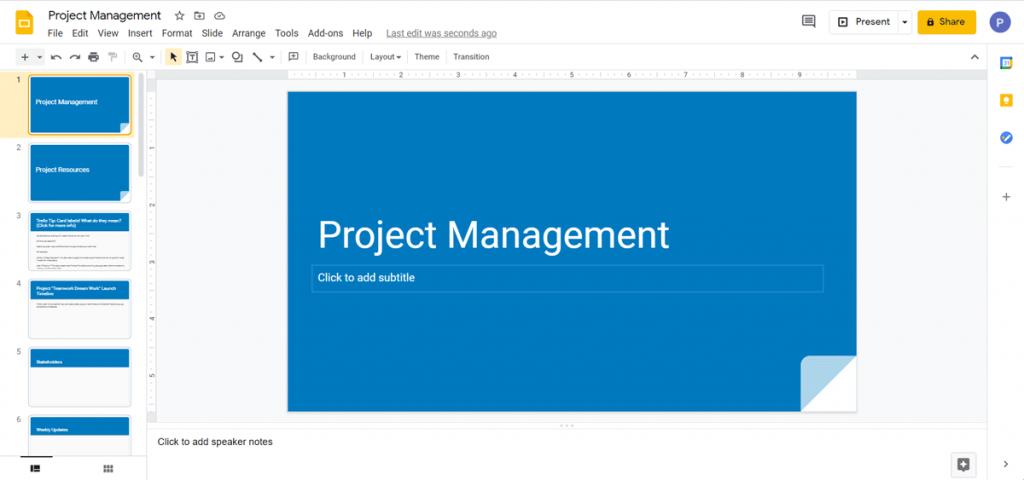 10 Benefits of Converting Trello Boards to Google Slides Presentations
Whether you're a project manager or someone who uses Kanban-style boards for organizing tasks and ideas, converting Trello boards to Google Slides has several benefits. We have listed some of the significant benefits you can derive by exporting your boards as a slide deck.
1. Get an Overview of Workflow
While Trello can be great for organizing workflow, a lot of the information can get lost between various cards. Converting your board as a slide deck can enable an overview of the workflow from a different perspective. This can help look at your cards from a different angle to identify pressing issues, pending tasks, and work that might need more urgent attention.
2. Create a Project Timeline
It is quite likely that your Trello board is already organized in a manner that can be used for making a roadmap or timeline. Once converted in the form of slides, your Trello board can serve as a timeline. Even if your cards don't translate as neatly as you intended to, you can always tweak your exported board to quickly convert it into a sequence that can be presented in the form of a timeline, project roadmap or even a forecast of expected outcomes.
3. Complement Team Collaboration
While Trello does provide online collaboration options, Google Slides can be another useful way of using your boards for collaboration with co-workers, clients, or friends.
The slides converted from Trello can be used for brainstorming or receiving suggestions for improvement to your presentation or workflow. Not to mention, Google Slides has its own range of app integrations that can further supercharge your Trello slide deck.
Some examples include integration with Google's Calendar app, Google Keep, Tasks, and third-party services like The Noun Project, Adobe Creative Cloud, Box, GIF making apps, etc.
4. Share Mockups and Wireframes
If you're a developer working on a website or app, there is a lot Trello can do for you and a few things that it cannot. While you can save your ideas in the form of Trello cards and boards, presenting them before a potential client might not be all that easy.
However, converting it in Google Slides can enable you to convert your wireframe or mockup in the form of a shareable presentation.
5. Get Feedback from Customers, Colleagues and Managers
Large organizations often have a structure where there are many approval levels before a product gets the green light. This might include initial client feedback, going through colleagues and managers for refining the product, and sending it to the senior management for final approval.
In such a case it might be easier to invite people to a Google Slides presentation deck instead of a Trello board.
6. Convert Raw Ideas into Ready to Present Information
Some people might view Trello as similar to Google Keep or Evernote. This means that they might use it to collect raw ideas to refine later. Such as ideas gathered during a brainstorming session.
While one might find it hard to refine these ideas in their raw form as cards, slides present a different prospect. You can export and refine your ideas as a slide deck using Google Slides and make them available for presentation before your colleagues, boss or client in no time.
7. Easier to Present During Remote Meetings
Since COVID-19 has created an environment where many of us work from home and remote meetings are the new normal. In some cases, business needed to be reimagined. Presenting a slide deck is more manageable than a Kanban-style board. Using a Google Slides presentation made from your Trello board might also enable you to present more conveniently via a remote meeting app like Zoom or Microsoft Teams.
8. Reach Out to Potential Clients
In a world riddled with analysis paralysis, many people find it hard to make buying decisions. This is also true for people looking to hire a service provider. Many people like to compare packages, plans, and fine details regarding what is on offer. Before committing to a long-term service plan. In such a case it might not be a great idea to present Trello cards before a potential client. However, a Google Slides or PowerPoint presentation can help you quickly present facts and product or service features before a potential client to convert a lead into a sale.
9. Suitable for Less Tech Savvy Users
Be it your boss or a client who isn't fond of digital devices, a slide deck is likely to be easier to grasp for less tech savvy users than a Trello board. Many businesses require dealing with such clients, such as senior citizens looking to buy real estate or a user who might suffer from a condition requiring the use of accessibility features on a digital device.
10. Prevents Disrupting Automation
Say, you have a Trello board which can be integrated with a third-party app to periodically receive new information. In such a case it isn't feasible to use your board for Live presentations. However, converting your Trello board to a slide deck can help keep your board 'busy', while you present the extracted information.
Final Words
Trello is one of those apps that has not only allowed end users to integrate third-party apps to it but has also been among the top apps for which other platforms offer integration. This is because Trello enables workflow automation, especially when integrated with other apps. A few examples include Trello's integration using Zapier and IFTTT, both of which are known for automating tasks without the need for coding.
This is why using a plethora of integrations you can perform an endless number of functions using Trello. Be it Trello's integration with the Google Assistant, publishing Alexa lists on Trello or viewing new Fiver orders on Trello as soon as you receive them from a client.
Using the Kanban-style, you can make use of Trello for organizing and managing your tasks. While converting it into a presentation can give you the added advantage of quickly converting your tasks, ideas and projects into ready to present slides. Making your content palatable even for users who might find it hard to find their way across a keyboard.