PowerPoint is one of the most popular presentation tools but there are many times when you want to convert a PowerPoint presentation to a PDF format for printing, distribution or for the sole purpose of having a backup file in a different format. In PowerPoint you can easily convert a PowerPoint to an Acrobat PDF format. In this article we will show you how to accomplish that easily in PowerPoint.
Convert a PPT to PDF in Microsoft PowerPoint
1. Go to File -> Export and click Create PDF/XPS Document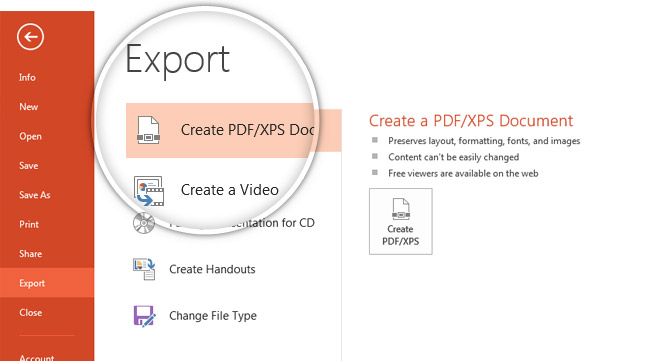 This option will open the pane where you can see a new Create PDF/XPS button. By creating a PDF or XPS Document you can export your presentation to a PDF document ready for printing purposes and preserving the layout, formatting, fonts and images. If you want to prevent the document to be changed then this is a good method to protect your presentations in PowerPoint. You can also use this method to upload a document online for example to sites such as SlideShare or SlideOnline.
2. Click the Create PDF/XPS Button.
Here you can specify an output folder and file name in your computer and this location will be used to save the PDF document being generated by PowerPoint.
Export a PDF using Save As option in PowerPoint
Alternatively to exporting the presentation via the Export menu, you can use the Save As dialog box to choose the output file type and export the presentation as a PDF document. Click File menu and then click Save As option. Now click Computer and save the file. In the dialog box open Save as type combo and choose PDF (*.pdf) option from the list.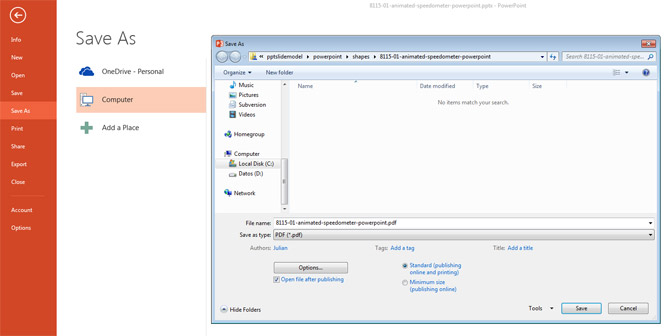 Configuring Printing Options while Exporting a PowerPoint Presentation to PDF
You can also configure the printing options while exporting a PowerPoint to PDF presentation. There are many options you can configure, here we will review a few. If you need to configure output options then click Options button in the output file dialog box while saving the PDF file. This will open a new dialog box as the shown below: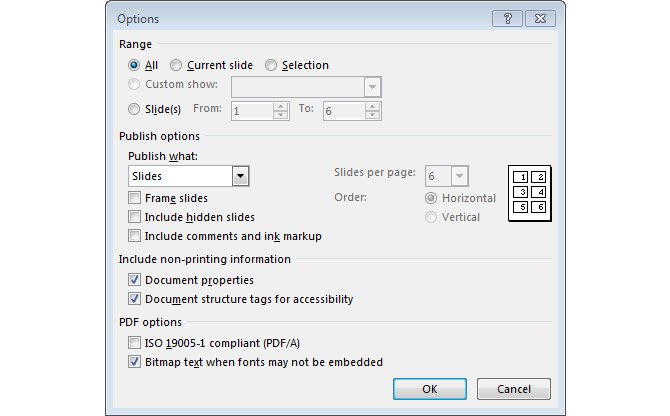 Here you can choose how PowerPoint will convert the presentation to PDF and control options like:
The range or number of slides to print in the PDF.
Choose to print handouts or the slides under Publish options.
Choose to frame slides within a box or include hidden slides.
Include comments and ink markups.
Include non-printing information such as document properties or structure tags that are useful for accessibility purposes.
Choose the Output PDF options such as ISO 19005-1 compliant option (PDF/A).
Printing an XPS document instead of PDF
As an alternative to PDF you can also print the presentation as a XPS document. XPS stands for XML Paper Specification and it is a document format you can use to view, save, share, digitally sign, and protect your document's content. Accordingly to the definition provided by Microsoft website, an XPS document is like an electronic sheet of paper: You can't change the content on a piece of paper after you print it, and you can't edit the contents of an XPS document after you save it in the XPS format.
In Windows 7 you can easily create, print, view or sign XPS documents from any program you can print from (including Microsoft PowerPoint or Office 2013), but there is also an XPS Viewer available.