Many presenters resort to looking for a single PowerPoint Template which can be sufficient enough to cover their entire presentation. However, it can save you a lot of time and also make your content look more professional to merge multiple templates to create a cohesive slide deck with diverse layouts. Moreover, at times you might need to combine content from multiple PowerPoint files to create a single presentation.
In this tutorial we will show you how to combine multiple PowerPoint presentations in PowerPoint.
Merging Multiple PowerPoint Files as One
Let's say I recently made an organizational chart using the Organizational Charts PowerPoint Template. But now I also want to add a mission and vision statement. While I can add new slides and add my content from scratch but using another template can be so much easier. Hence, I decide to add the Mission and Vision PowerPoint Template to my existing slides.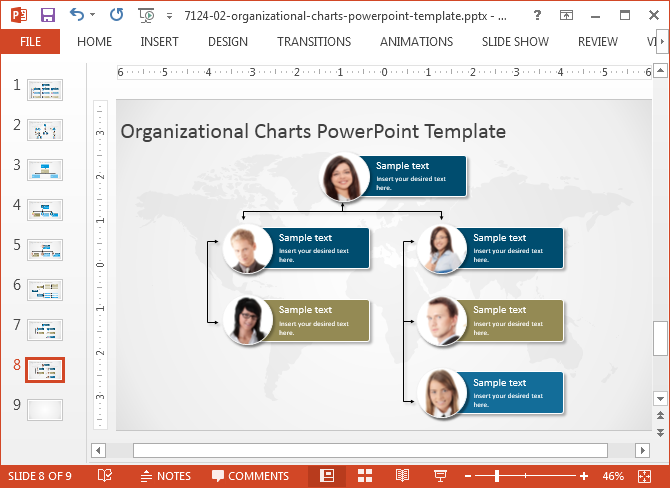 To add another PowerPoint presentation to your existing slide deck, go to Insert –> New Slide –> Reuse Slides.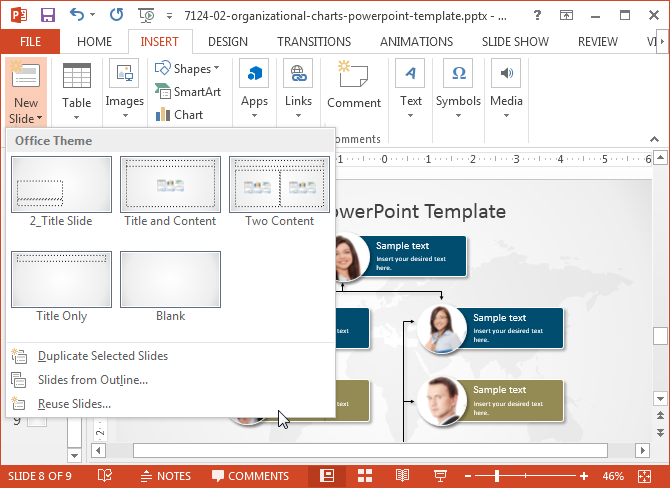 Pick a File to Merge with Your Current PowerPoint Presentation
In the sidebar that opens up, click Browse –> Browse File and pick the presentation file you intend to add. In this case, I picked the Vision and Mission PowerPoint Template to merge it with the current file which contains my organizational chart.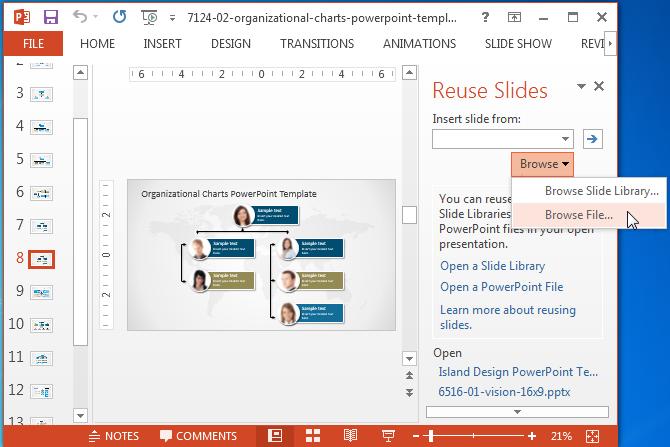 Insert Required Slides and (Optionally) Apply Theme
Importing Slides: In the next step, simply right-click on the slide thumbnails that appear in the sidebar and select the slides you want to insert. You can:
Insert Slide (to import only the selected slide) or
Insert All Slides (to import all slides from the selected file)
Importing Theme: An important thing to consider here is which theme you intend to keep. It is likely that the themes of both your files might be different. In such a case the default theme of the current file will be applied by default. To change the theme to that of the imported file, choose either:
Apply Theme to All Slides (To change the theme of the hole presentation file) or
Apply Theme to Selected Slide (To change the theme of the imported slide only)
The below screenshot shows the Mission and Vision PowerPoint Template merged with the Organizational Charts PowerPoint Template. Using this method you can merge multiple PowerPoint presentations into a single cohesive presentation file.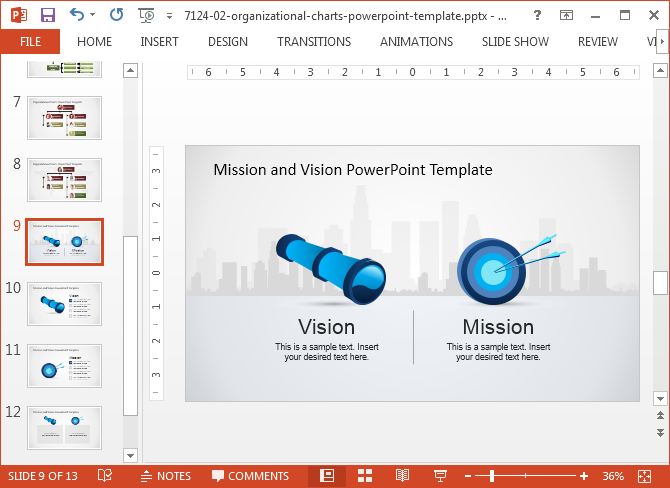 If you are looking for high-quality PowerPoint Templates with flexible designs and editable slide objects, see our archive of more than 7000 Premium PowerPoint Templates. For additional details, see plans and pricing.