Electronic or e-Commerce is reshaping the global economy as we speak. In such an environment it has become important to build company profiles, make project projections and relevant schematics for employees, clients ad other stakeholders. Pretty often such details boil down to a PowerPoint Presentation which may have to be presented before an audience, such as during webinars, conventions, conference calls, etc.
Using the collection of the following Ecommerce Templates for PowerPoint you can present details about your business, projects, plans and statistics to relevant people. Be it via an offline presentation, online conference or by uploading it to online platforms.
Communications Network PowerPoint Template With US Map
This is a template for displaying a communication network. The template displays the map of USA and you can mould it as per your requirement to display communication information related to your projects, plans and other relevant data. In case you require a similar template for another country or continent, check out our PowerPoint Map Templates.
Go to Download Communications Network PowerPoint Template With US Map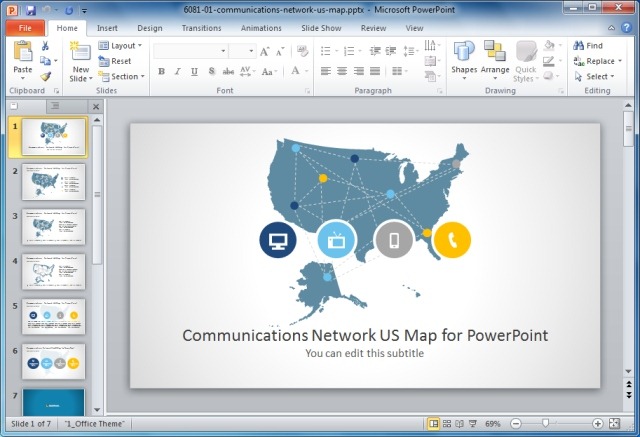 Company Profile PowerPoint Template
If you require presenting your company profile with the help of a presentation, then this is just the template you need. The Company profile PowerPoint Template provides a comprehensive set of slides for making a complete company profile, with details ranging from the basic information about your company to introduction of your team members (with pictures), as well as charts, maps and process slides.
Go to Download Company Profile PowerPoint Template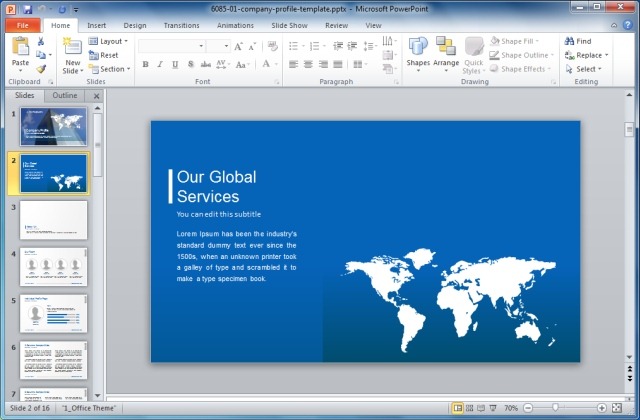 Dashboard PowerPoint Template
This template has been designed to help you present complex details and data in a simplified format, to enable your audience grasp detailed information at a glance. With this template you can add different types of charts, stats and other details to share with an audience using a Dashboard style slide. For example, if you wish to show off your quarterly success, you can add different statistics and charts which may project those details at a glance.
Go to Download Dashboard PowerPoint Template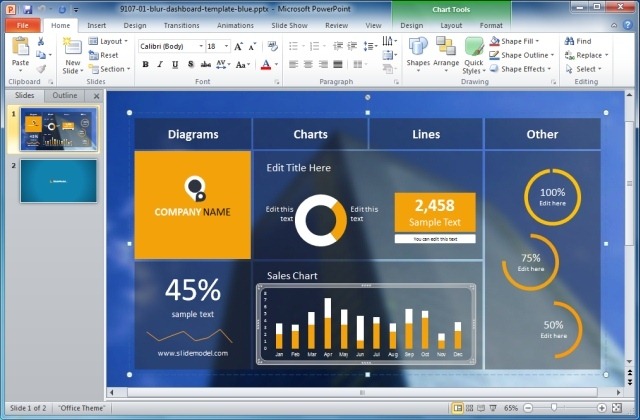 Network Diagram PowerPoint Template
Electronic Commerce is incomplete without cloud computing. The IT infrastructure at work may be customized, rented or created within an organization to facilitate daily work. You can present such details accurately using the Network Diagram PowerPoint Template; be it information about your business's IT infrastructure, a project proposal or an overview of the reliability of your corporate security.
Go to Download Network Diagram PowerPoint Template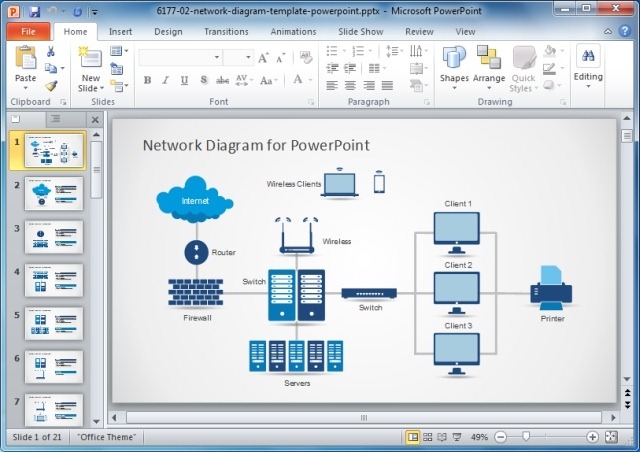 Global Network Diagram For PowerPoint
This is another professionally made e-commerce template for PowerPoint which contains sample slides with a maps, IT based icons and stick figure clipart.
Go to Download Global Network Diagram For PowerPoint