Organizational Chart Templates For Making Attractive Presentations
Making professional looking Organizational charts can be quite difficult. This is especially true when one may require making an organizational chart for a PowerPoint presentation. However, using appropriate Organizational Chart Templates For PowerPoint can help you create such charts in a snap; like the org chart templates given below.
Tree Diagram PowerPoint Template
Making a hierarchy or organizational chart with this template is as easy as populating empty text boxes. You can of course also stylize your chart further by using options from the PowerPoint Ribbon menu (like the Drawing Tools). With the Tree Diagram PowerPoint Template you can simply edit the given sample slides to create professional looking, attractive organizational charts. The template comes with different types of chart layouts to help you create presentation slides and printable hierarchy charts with ease.
Go to Download Tree Diagram PowerPoint Template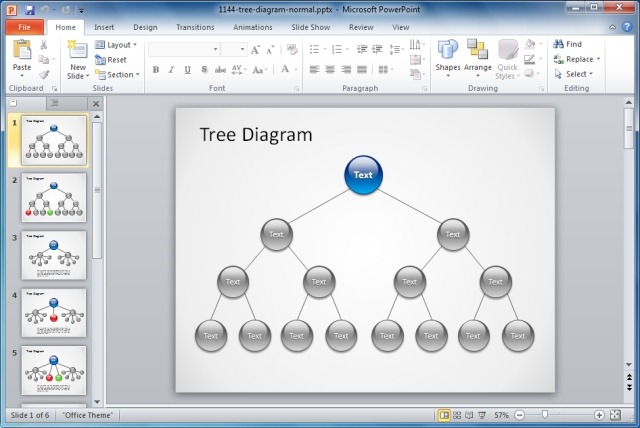 Decision Tree PowerPoint Template
This is one of the most conventional templates for making org charts in PowerPoint. Whether you need to make printable organizational charts or wish to present them in presentations, using this template can help you create such diagrams in no time.
Go to Decision Tree PowerPoint Template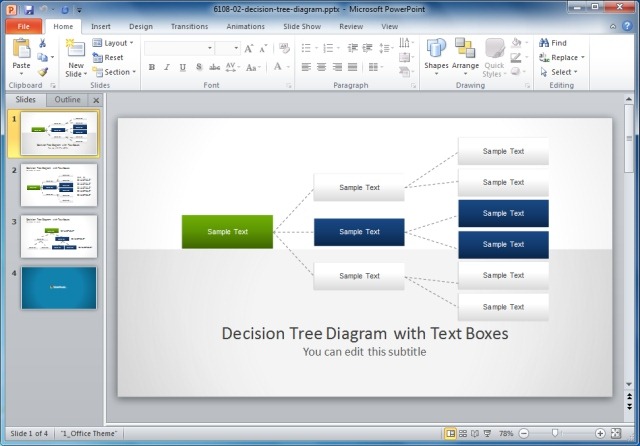 Creative Tree Diagram PowerPoint Template
Org charts can be made interesting with the help of a few creative ideas. If you are looking for a head start, this template might just be what you need. Instead of presenting an organizational hierarchy in the shape of conventional text boxes, you can present it in the form of leaves with different colors depicting different levels of management. You can also use this template for making presentations or diagrams about other topics, like a family tree.
Go to Download Creative Tree Diagram PowerPoint Template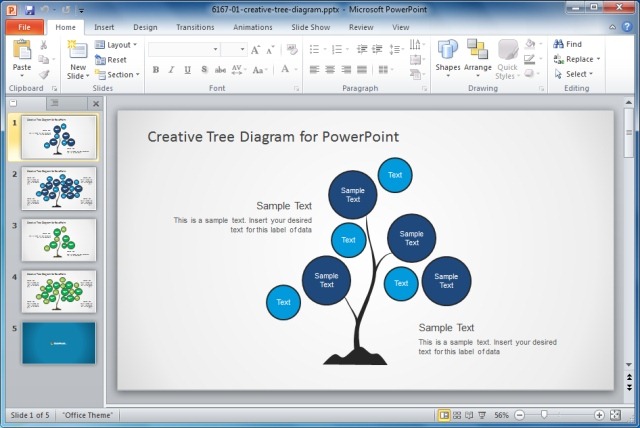 Decision Tree Diagram Template For PowerPoint
While this template is originally meant for making decision trees, however, you can make use of the given sample slides for making organizational charts in a decision tree like layout. The best thing about this template is that it offers half a dozen unique layouts for making org charts, decision trees and other types of sequential slides. These layouts can help you present different types of diagrams with different layouts. Therefore, the template serves as a comprehensive toolkit for making a variety of diagrams for official use.
Go to Download Decision Tree Diagram Template For PowerPoint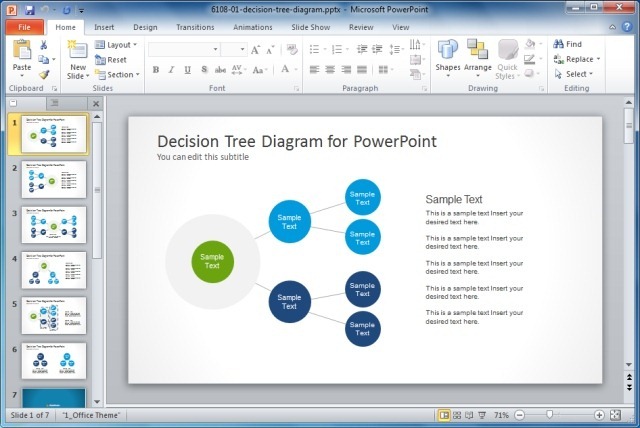 These are some of our best Organizational Chart templates that you can download from SlideModel. Using our Org Chart PowerPoint templates will ease the process of creating an organizational chart for your presentations.
Tags: Business, Business Plan Template, Business PowerPoint Templates, Diagram Templates, Organizational Charts, Templates.
No Comments »
|
↑ Back to top