Bowman's Strategy Clock can be a helpful model for evaluating the performance of your company before rival businesses. Let's take a look at what this model is meant for and how can you create it using a PowerPoint Template.
What is Bowman's Strategy Clock?
Bowman's Strategy Clock is a famous model which is used in the analysis of competitiveness of a business in relation to its competitors. The model helps analyze the cost and differentiation advantage, which can help evaluate the competitive advantage which may be there for a company. The clock is represented with the help of perceived value (high, mediocre or low) and price.
Bowman's Eight Different Strategies
Below is an overview of the 8 different strategies of the Bowman's Clock
Low Price – Low Value: This is where inferior products are used to attract customers with cost effectiveness.
Low Price: This is where the product is placed at the lowest possible price by hoping to balance the equation using high volumes (sold at lower prices).
Hybrid Positioning: This is where moderate price and moderate value is used for products.
Differentiation: This is where product differentiation is used for selling products.
Focused Differentiation: Often used for targeting specific marketing niches, focused differentiation is used with a combination of high value at high prices.
Increased Price – Standard Product: This is where prices are raised without adding any value to the product.
High Price – Low Value: This is a classic monopoly pricing strategy, where high prices can be charged for products of low value.
Low Value – Standard Price: Keeping a low value product at a standard price in a competitive market may result in loss of market share. This is why strategy 6-8 is not considered as a useful strategy in a competitive market.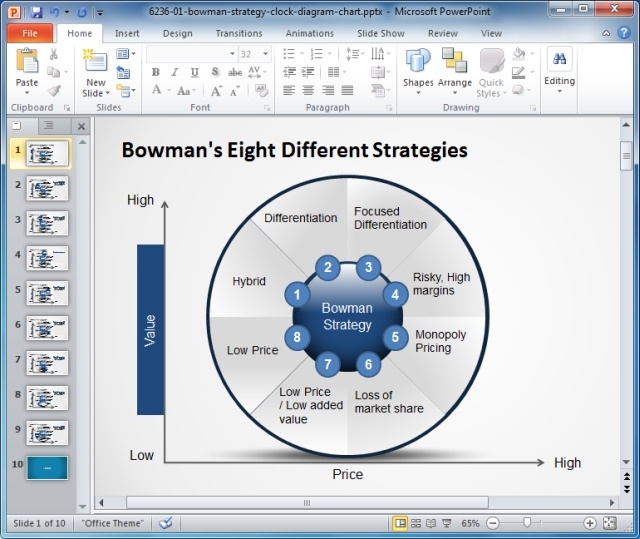 Create Your Own Bowman's Clock With The Bowman's Strategy Clock PowerPoint Template
Bowman's Strategy Clock PowerPoint Template can help you create the famous Bowman's marketing model using editable sample slides. You can use this template for not only creating presentation slides but make an entire Bowman's clock diagram for your company, using the given editable slides.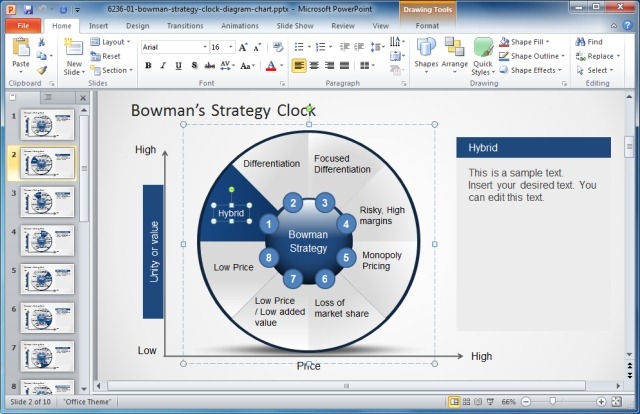 When making the Bowman's Clock you may be interested in the cost, product differentiation and market segment to evaluate the standing of your company against its rivals. This template provides the ability to create the Bowman's Clock in a diagrammatic form, with the help of evaluating the Value and Price (high-low). You can learn more about Bowman's Clock here.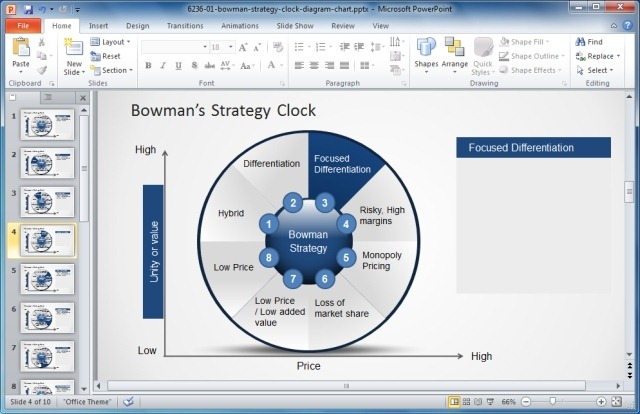 You can highlight the different segments of the clock to create a Bowman's Clock diagram or present each aspect of the clock using different slides. For example, different sample slides allow you to emphasize upon points like differentiation, pricing, the risk margin and market share. Hence, you can not only create a Bowman's Clock but also present each aspect of the clock using different slides. The template provides 9 editable slides by highlighting the various aspects of the Bowman's Clock in different slides.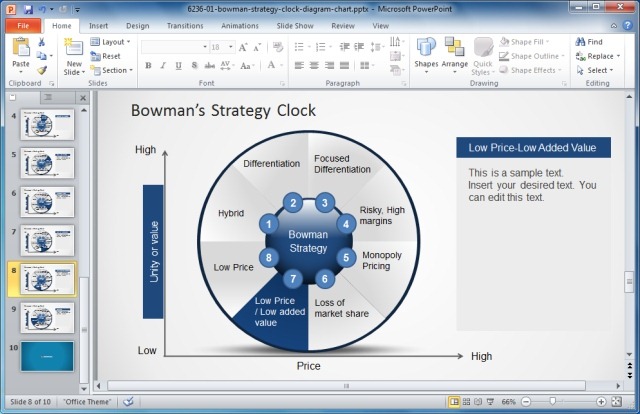 You can download this template and also preview its slides from the link given below.