Gauges and speedometers can be used in presentations to create slides about gas prices, cars, racing tournaments, business growth and the like. Below are some gauge, compass and speedometer themed PowerPoint Templates that you might find useful for your next presentation.
Dark Speedometer Template for PowerPoint
This PowerPoint template contains various editable slides with imagery of speedometers and gas pump tanks. The sample slides are arranged in different colorful layouts for creating anything from a sequential slide (such as a timeline) to something as diverse as agenda slides.

You can even rotate the needles on the speedometer by right-clicking the needle image, and going to Format Shape-> 3D Rotation. From here you can select which direction you wish to rotate the needle to.
Go to Download Dark Speedometer Template for PowerPoint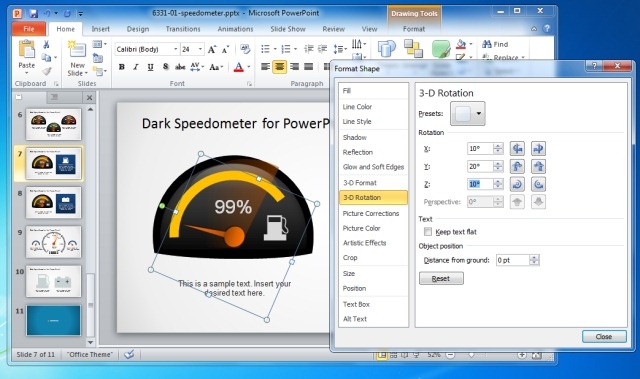 Green Speedometer Template for PowerPoint
This is another good speedometer template which comes in white and green color tones. This template too provides speedometer themed sample slides with different layouts and clipart images. The introductory slide contains three speedometers, followed by a slide where you can add a summary or introduction of your topic. Other slides come with colorful speedometer images and layouts that can help you present information in a sequence. Like the Dark Speedometer Template, you can rotate the needles on the speedometer images and also customize them in various other ways using PowerPoint Ribbon menu options like the Drawing Tools.
Go to Download Green Speedometer Template for PowerPoint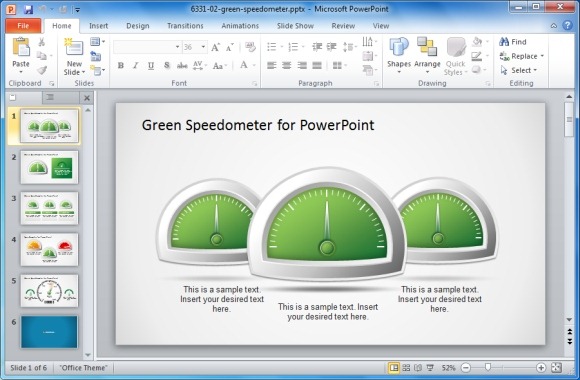 Compass PowerPoint Template
Other than speedometers and gauges, the image of a compass can also help you present your opinion in a symbolic or contextual manner. The Compass PowerPoint Template comes with finely crafted layouts with compass clipart images. The compass clipart images come with stylish metallic color tones, with a touch of red and blue to highlight the needles. This makes the sample slides extremely elegant and an ideal choice for professional presentations, where a good template is essential for leaving a lasting impact on the audience.
Go to Download Compass PowerPoint Template
For similar templates, see our collection of Speedometer PowerPoint Templates and Compass Templates for PowerPoint.